A History of Non-Heterosexuality in Asia: Then and Now
June 5, 2017
Since the birth of the modern lesbian, gay, bisexual, and transgender (LGBT) movement in 1969, when LGBT bar patrons defended themselves and fought against a police raid at Stonewall Inn, the LGBT community has gained overwhelming public support and legislative rights. In 2011, former President Barack Obama repealed the now notorious "Don't Ask, Don't Tell" policy that outlawed openly gay, lesbian, bisexual, or transgender people from serving in the U.S. military. Obama declared that service members would no longer have to "hide who they are in order to serve our country." In 2015, the Supreme Court declared same-sex marriage legal in all fifty states in the Obergefell v. Hodges case, a highlight in the LGBT movement and American history in general. And in 2016, despite the tragic mass shooting at Pulse nightclub meant to target its queer patrons, the media cast an insightful spotlight on the LGBT community with a plethora of movies about LGBT people.With these recent successes in the advancement of the LGBT movement in America, it is disturbingly easy to forget that many countries in the world still hold very stringent restrictions on the LGBT community. On Wednesday, May 24th, 2017, Taiwan became the first country in all of Asia to legalize and fully recognize same-sex marriage, a decision that many hope will encourage other Asian countries to also legalize gay marriage.

Homosexuality has always been a sort of cultural and social taboo across Asia. While it is still controversial whether early Chinese dynasties allowed homosexual activity, it is agreed that the communist government of China during the 1900s had explicit views against homosexual relations, as did other communist governments in Asia. Also, being that Islam is the largest religion in Asia and that around 80% of Muslims in Asia view homosexuality as morally wrong, similar to devout Christians and Jews, it is no wonder why bigotry against homosexuals is still rife in Asia.

In Brunei, Iran, Saudi Arabia, and Yemen, homosexual activity of any sort is still punished with the death penalty to this day. Similarly, more than 20 Asian countries have outlawed same-sex sexual acts, and many other countries that have not outlawed homosexual activity do not have any anti-discrimination laws concerning sexual orientation. Thus, LGBT people are targets of public ignominy and dangerous practices, including estrangement from one's family and "corrective rape," in which a non-heterosexual, transgender, or asexual person is forced into non-consensual intercourse with the intent of "making" the person heterosexual, enforcing conformity with gender standards, or "forcing out" their sexuality. However, such abominable and blatant discrimination is often ignored or marginalized by Asian governments due to the fear that correcting such discrimination will disturb the social order or detract attention from the country's political or economic status. This social stigma has limited educational and occupational opportunities for LGBT people, as well as their access to health care. This dangerous combination of not being able to support oneself economically and not having access to health care engenders the contemplation of self-harm or even suicide.

In the monumental ruling, Taiwan's Constitutional Court determined that the civil code outlawing same-sex marriages infringed on two articles of the constitution defending human dignity and egality under the law. A bill to enforce the Court's verdict is already going through the legislature, and surveys show that most of the public is in favor of the ruling, including Taiwanese President Tsai Ing-wen. Taiwan's legalization of same-sex marriage punctuates a year-long campaign for gay rights in Taiwan, one of Asia's most liberal democracies, but it also opens up a new debate on the global implications for the years to come.

Taiwan's active LGBT movement, led by organizations such as the Taiwan Alliance to Promote Civil Partnership Rights and the Taiwan Tongzhi Hotline Association, has already inspired similar calls-to-action in neighboring countries such as Malaysia and Myanmar. Undoubtedly, Taiwan's legalization of same-sex marriage will also have ramifications in mainland China, which views Taiwan as a constituent of China rather than a distinct country.While critics speculate that the ruling could be seen as un-Taiwanese or un-Chinese, supporters of the ruling argue that it will only bring their fight for gay rights directly to mainland China. Since the technological growth of the 1990s, China's LGBT movement has already gained significant momentum through the media and has worked with famous activists from Hong Kong, Taiwan, and Japan to publicize LGBT goals. Also, with the new generation of feminists on the rise in China, many of which are coincidentally lesbian, the lesbian branch of the LGBT movement has made great strides in securing societal tolerance and understanding for themselves.

Li Maizi, an influential Chinese feminist and LGBT activist, reasoned that since Taiwan and China share the same language and much of the same culture, Taiwan's decision to legalize same-sex marriage strengthen the LGBT movement in China. And if China were to pass legislation allowing for same-sex marriage, it is highly probable that other Asian countries will follow suit, as China is one of the most powerful countries in Asia politically and economically and holds significant influence on other Asian countries. In the words of Chi Chia-wei, a longtime gay rights campaigner in Taiwan, "In Asia, every country's situation is different… but [Taiwan's ruling] should certainly offer some encouragement to different societies to consider following in Taiwan's footsteps and giving gays and lesbians the right to marry."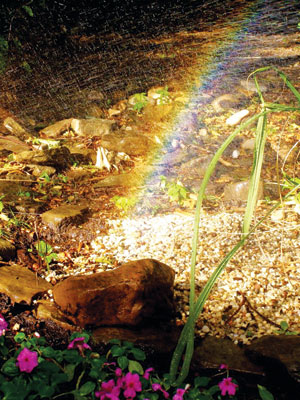 © Kristine B., Setauket, NY