Balls-Go-Round
MAG
June 26, 2012
Did you know that over 50,000 metric tons of recreational balls are dumped into the earth annually? Did you know that most balls – such as tennis balls – are made of rubber and take approximately 10 years to decompose? And, did you know that over 300 million tennis balls are produce annually, with a court-life of just a few hours before being ­discarded?

My brother and I co-founded Balls-Go-Round, Inc., a nonprofit organization dedicated to the collection, recycling, and redistribution of used balls. To date, we have recycled over 100,000 balls and donated them to youth programs, Tier-1 public schools (high poverty), occupational therapy groups, homeless programs, and even animal shelters and humane societies.

By educating country clubs and sports facilities, we can create awareness about recycling gently used balls and prevent tons of waste from ending up in our landfills. While there is much still to be done, our message continues to spread.
Most recently, we sent recycled soccer balls via Missionary Flights International to children in Haiti. We also helped ­educate students on how used tennis balls make great piggy banks and can be used as planters for growing seeds. We participated in an Earth Day event sponsored by KOHL's, donated balls to animal shelters for dogs to play with, and provided ­tennis balls to students with special needs who use them for hand-strengthening therapy.

What inspired us to start this organization was simply our frustration at throwing away tennis balls every time we played a match. We would look in the garbage bins at our tennis facility and see hundreds of balls discarded every day! Even our own garage contained many wasted and dead balls just waiting to be bagged and disposed of. I believe the last straw was when our tennis pro would just hit dead tennis balls over the fence. It was a form of littering that was gross! This was the genesis of Balls-Go-Round, and we believed that other organizations could benefit from the secondary use of these balls.

Visit us online at www.ballsgoround.org or find us on Facebook at www.facebook.com/ballsgoround and learn how you can get involved and eliminate unnecessary waste!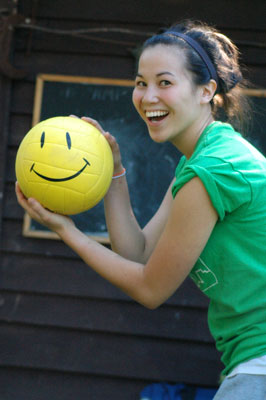 © Masaleen O., Palatine, IL