Sweet Sixteen
MAG
For my sweet sixteen there were no TV cameras filming the planning process, no hand-delivered invitations, no trips to Paris to select the perfect dress, and no fancy car as a "surprise" present at the end of the party. Though it wasn't like MTVs "My Super Sweet 16," it was a party with a far better ending. My friends and family came together to dance the night away and commemorate World AIDS Day to benefit the Holly House Orphanage in Nairobi, Kenya. The $8,600 we raised was the best gift I could ever dream of! It was so rewarding to know that my celebration would be felt halfway around the world by children in need.

I am part of the Global Citizen Corps Leadership Program, which has taught me to become aware of the issues of those around the world. The problem of access to education has become a special passion of mine. To me, it seems that a lack of education is the obstacle that keeps many in the cycle of poverty. The school in Nairobi is a place where I believe my efforts, although small, can have a huge impact.

For the past two years I have sponsored three students at Holly House. I really enjoy my correspondence and being able to provide small items like blue jeans and school supplies especially when I know how happy it makes these kids. This past summer I proposed a grant to my church's outreach committee. Speaking with the director of the school in Nairobi, I found they desperately needed to make repairs to substandard classrooms. They also needed a second floor for the orphanage. The classroom project fit with the church grant money best, but I wanted to find a way to help with the expansion project too. I understand what it is like to lose a parent, but I cannot imagine the pain of losing both your parents and your home.

When I started planning for my sweet sixteen, I faced many obstacles. When I realized that World AIDS Day was on a Saturday, I decided to use that evening in combination with the Raise the Roof theme so that the date meant something. My actual birthday was not until February, but I moved the party to World AIDS Day in December. Everyone I told was intrigued and inspired. As a matter of fact, after my party I received an invitation from a friend who also asked for donations for another African AIDS organization instead of presents. That kind of imitation is the best and makes me feel like I can motivate my peers to make a difference in the world.

When I opened the cards, I was touched by the comments and the amounts of the checks. Obviously, my friends' parents were also inspired to support my efforts in a very generous way! A month later, I am still receiving checks.

I did not tell the school what I had cooked up for my birthday. I wanted it to be a surprise, like the car at the end of the MTV show. So I put all of the checks in one envelope with a copy of my party invitation and a Christmas card. Then I waited with excitement for a response. The school could not have been more pleased with their gift. This birthday party has been the best ever. Isn't that what a sweet sixteen should be?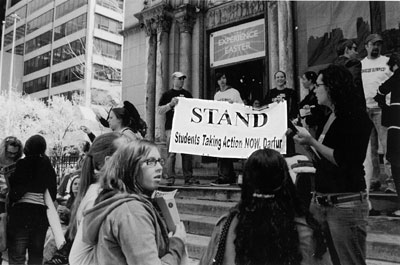 © Meaghan M., South Portland, ME