"Stomp Out Bullying"
June 2, 2014
Bullying in schools is believed to be a normal part of school life. However, when people begin to have this mentality, they forget that bullying is physically and psychologically harmful to both the bully and the victim. Bullying must be eradicated from schools by raising awareness and increasing supervision.
Approximately 160,000 teens reportedly skip school every day because of bullying, 1 in 10 teens drops out of school due to repeated bullying. 83 percent of girls, and 79 percent of boys report being bullied either in school or online. Bullying is one of the most underrated problems in today's culture. Too many times, a child is repeatedly harassed, tormented, put down, isolated, and lead into early depression due to bullying.!
Bullycide is a term used to describe suicide as the result of bullying. There are reportedly about 15 to 25 reported incidents of bullying-suicide statistics reported each year. 2010 bullycide statistics from Yale say suicide rates are continuing to grow among adolescents and have grown more than 50% in the past 30 years. A study in Britain found that at least half of suicides among young people are related to bullying. These statistics are all growing, there needs to be light shined on the issue of bullying. According to these statistics, students would often times rather die than face their bullies. Surely, this is alarming. Bullying is one of the single most destructive, and downright awful problems of our generation. Too many innocent children are victims.
These numbers are too high. Action needs to be taken. Teens also need to stand together and put an end to bullying. When teens see their peers being bullied, they need to report the incident or get help. If teens band together to address these issues, they really don't have to worry about being the target. By standing together to prevent bullying in every school, ?the number of depressed and suicidal teens can drop along with those who fear for their life while attending school.
There are several reasons bullies target people. Many times, bullies or ignorant people reject and attempt to destroy things they do not understand. According to the gay bullying statistics from the lesbian, gay, bisexual and transgender (LGBT) community, about one-fourth of all students from elementary age through high school are the victims of bullying and harassment while on school property because of their sexual orientation. According to recent gay bullying statistics, gay and lesbian teens are two to three times as more likely to commit teen suicide than other youths. In fact, about 30 percent of all completed suicides have been related to sexual identity crisis. Students who also fall into the gay, bisexual, lesbian or transgendered identity groups report being five times as more likely to miss school because they feel unsafe after being bullied due to their sexual orientation. About 28 percent out of those groups feel forced to drop out of school altogether. Although, more and more schools are working to bring down on problems with bullying, teens are still continuing to bully each other due to sexual orientation and other factors as well.?
In addition to bullying related to Sexual Orientation, another form of bullying that has recently become a large issue is Cyber bullying. Cyber bullying affects many adolescents and teens on a daily basis. It involves using technology, like cell phones and the Internet, to bully or harass another person. Cyber bullying can be very damaging to adolescents and teens. It can lead to anxiety, depression, and several phycological problems. Also, once things are circulated on the Internet, they may never disappear, resurfacing at later times to renew the pain of cyber bullying. More than 1 in 3 young people have experienced cyber-threats online. Over 25 percent of adolescents and teens have been bullied repeatedly through their cell phones or the Internet. (This means 1 out of every four adolescents and teens are victims.)?
Bullying hurts. Our parents always said that old tale of how sticks and stones could break your bones, but personally, words hurt me more than anything. I wasn't the only kid who grew up this way. Put an end to bullying. Words hurt more than you could ever imagine. Take action, and stand up.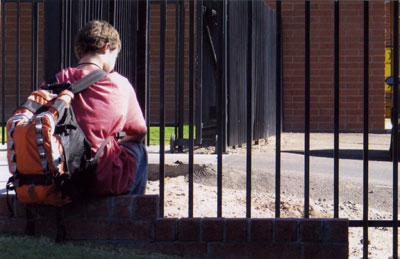 © Molly L., Phoenix, AZ