When He Finds You
February 6, 2014
Silly girls and tiny dreams, that was my life. I thought you could love a stranger, feel that strangers mouth on yours and enjoy it. But I was wrong.
I was so wrong...
"Where do you think you're going?" A harsh, cruel, sinister voice said behind me.
I jumped, nearly shattering in my own skin.
I started to run, my feet stumbling and my hands sweating. I could hear his hushed voice, and his loud footsteps behind me. His large hands snagged the root of my hair and I was screaming, kicking and trying to get free. He began to drag me from the kitchen to the basement, my hair splitting from the surface of my scalp. I was crying, clawing at his hands with my nails but he didn't stop. He was truly going to kill me.
I felt air born and I found myself laying on a large bed. His hands gripped my hips, crushing them.
Another scream split through my teeth.
"Did I say I was finished?!" He yelled in my ear.
I slumped back, his hands yanking my thighs apart and pressing himself into me. I pulled the sheets and wrapped them across my chest, but he wanted more.
Needed all of me, all at once.
I was being split into two...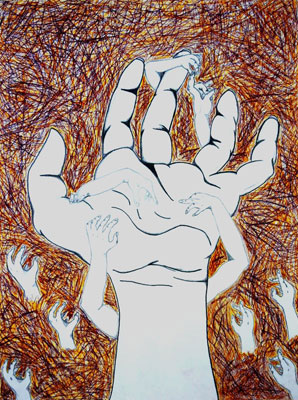 © Ariana R., New Orleans, LA