The Other Side
January 31, 2013
Enough. I've had enough reading articles about how Christians are homophobic, sexists, bullies, manipulators, liars and cheaters, without hearing the other side. This is the other side.
In every religion, majority, culture, demographic, community, group, minority and clique there are homophobic, sexists, bullies, manipulators, liars and cheaters. I don't mind people telling their stories of a Christian that bullied them, ignored or teased them. What I mind is people blaming the religion for this act of inexcusable hatred.
In any religion, atheist or agnostic group, there are people with ethics, and there are people without any ethics. Not all Muslims are terrorists, not all Christians are hateful. And bottom line:
The Christian majority is bullied too.
Because of my differences, because I am a Christian, dyslexic, an introvert, struggle with math and science and I'm opinionated, people have the inclination to call me a hypocrite, homophob, self-righteous, stupid, loner, not trying hard enough and a snob, among other choice words. Bullying is not something only you experience.
I've had enough of people playing the victim card, "oh boo hoo Christians are terrible people." No. People are terrible people. All groups, be it a minority or a majority, can be bullied and can be bullies. I've been manipulated and bullied by my best friend, least I thought she was. I've been teased by teens in my school group. Yes, these people are Christians. They have made the choice to accept Jesus' love and grace. Being a Christian does not mean I'm perfect. Far from that, it means I see my imperfections and understand that I can't pay the price for my poor choices. Knowing that has led me to make the choice to accept freedom through the sacrifice Christ made.
This is my choice. I do not expect you to make the same choice. I will not bully you for not choosing to be a Christian. I do not expect you to be perfect and never bully, mock or tease someone else. Because it happens. There have been words that have come out of my mouth that I immediately regretted.
I believe everyone has experienced some sort of bullying. From family, friends, those within their religion, those from their schools, home school groups, drama clubs and sports teams. Instead of hating one group of people for bullying you, stop the victimizing and generalization. Don't blame the religion, blame the hatred.
Bullying is not something anyone should have to go through. Being a target and constantly being bullied is a terrible example of "loving your neighbor". Don't blame a religion for bullying you. It's the person making the horrid choices to target you. Choices that are not supported by the Bible I believe in.
In my faith, God does not command us to hate others. On the contrary, the most important commandment in the Bible is "'Love your neighbor as yourself.' Physically, verbally and emotionally bullying someone is not "loving your neighbor".
I say we group together, united by the common grounds of us all being human. As a human, you deserve love and respect. The humans around you deserve love and respect too. By forgiving the unforgiveable, surrounding yourself with real, supportive friends, and knowing how important you are, can help heal the cracks that bullying left on your heart. When I say 'forgive the bully', that does not mean trust the bully or be friends with the bully. Forgiving does not justify them for bullying you. It's being the bigger person, and focusing on the outcome. Focusing on freeing yourself from the bully, by letting go of the bitterness.
Bullying leaves wounds that can last a life time. How I've managed to cope with them is by listening to a phrase a very wise person once told me: "A lie believed as truth is still a lie". Lies are very powerful when given the power of truth. Truth sets me free from the labels, words and heart break I feel through how I was bullied. You have to find the truth.
The truth is, sometimes I am some of the words people have called me. I make poor choices, choices that don't exemplify love. The words I said have consequences. The words I'm called don't define me. I am more than the labels others plaster across my body. You are more than the labels they give you, too. There is more to you than being gay, than struggling with memorization and school, than your clothing size. You are not bad for being loud, quiet, shy, believing in something others don't understand. You are much more than test scores, than what colleges tell you you are, more than what your parents believe you are. You are you, and as Dr. Seuss says "there is no one alive who is Youer than You." We need you. You will change the world with your youness.
I still struggle with my self-worth because of the bullying I went through, and I wasn't even a target in a way some people are. Instead of blaming those I trusted, or letting the bullying change my opinion of my beliefs, I reminded myself how important I am. I still remind myself that today.
I want to say one last thing: I'm sorry. I'm sorry for the religious, atheist, or agnostic people who have bullied you. I'm sorry for the homophobic, sexist, manipulator, liar and cheaters who have hurt you. And I pray you are surrounded by friends to love you, even when you are the outcast like I was. If I ever have the honor of knowing you, I hope that I can be your friend. Everyone needs friends, especially you.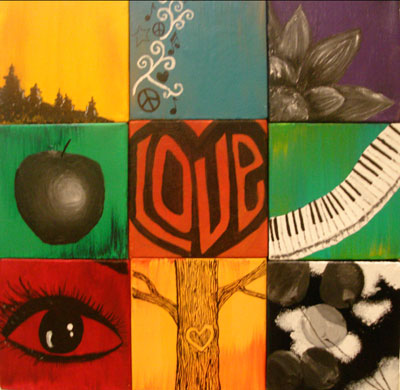 © Christina E., Henderson, NV