Today
January 10, 2013
I have been bullied my entire life.
Random strangers seem to be the new trend; it's 'classy,' and easier mostly because they're less likely to get into trouble.
My outward appearance doesn't help. No matter how much eyeliner or mascara I use, I will always have miniscule eyes.
But I have never been bullied into submission.
There was a time, in sixth grade, when I was scared to say anything, to fight back. My parents didn't know about it. My teachers didn't know about it. And because I had just moved there, I had no friends to know about it.
I am not afraid now.
I remember the first time I felt that way. In seventh grade, I was sitting in the bus, reading a book and enjoying it. Definitely illegal behavior. I looked into my tormentor's eyes that once and didn't see the joy I thought would belong. Those eyes were cruel slices torn by pain.
And thus my worst tormentor became my best friend.
It is possible to weave a friendship out of the very barrier that separates.
I still get picked on by random strangers today. Sometimes a push in the hallway, sometimes a under-the-breath "chink."
But I don't care. I don't care. I am a chink. I have miniscule eyes. And the very barrier that separates us is the one that makes us the same.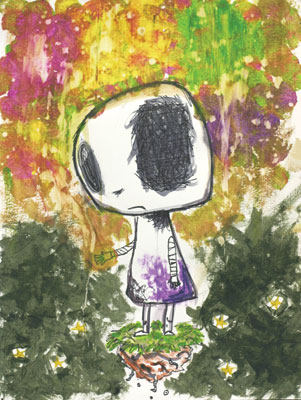 © Ashley W., Port Charlotte, FL