Not Cool
December 16, 2012
People say bullying is bad but don't we all do it. Sometimes you don't mean to do it but it happens. Teachers nail on us because we bully but they bully too. Principals, adults bully each other but we get punished. Well I wanted say something about it but why would anybody care. Bullying is term for picking on people and when you pick on people it hurts them but child abuse hurts kids and sports hurt kids and like everything hurts. People worry more about bullying then maybe child abuse. I was bullied and nobody did anything. I fought for what I wanted. Bullies want attention because they have a problem that nobody will listen too. After you bully you get punished but you know what nobody asks them why they bully. My school gives these talks about why people bully and they don't ask why they bully. They said that they lack self-esteem well maybe the counselor should help that person then. The thing that I don't get is that everybody bullies and it is the common bully that nobody sees, but if a good kid is bullying the kid maybe for doing something, that good kid gets in trouble.

Bullying is a problem or a big problem. You can't make laws for kids not to bully because everybody bullies. Maybe teachers or doctors or maybe even the president may bully people but nothing happens to them. They are safe from the laws and all the justice that they are putting out there for us to follow, Here's the thing, they aren't following the so called laws that we all have to follow. Bullying is in the whole world. Look at it this way. You can't tell people to stop bullying if you are bullying or gossiping about each other. People are rude, jerks to everybody. You can't let celebrities get away for bullying or doing something they shouldn't. They will get off the hook for doing whatever they want but us know if we bully or get drunk and drive we go to jail or get expelled from school.
This world is full of people who bully. I want to make it stop but you can't. Nobody can. People have problems they may say things but then they say I'm sorry. People get mad say stuff and leave. Bullying is many different things. You can't put it into a little category because it is a huge one. You can't class it as a school problem or a computer problem. People don't like people and if somebody tries to be rude to you, you don't be nice you fight back with all your power and make sure that they know you aren't going to be bullied. Schools say be nice to everybody but not everybody is nice so if you are nice to everybody that means they do not have to do their job. I think bullying is a problem but making laws and trying other things is not going to make it stop. You have to find the source for bullying of the factors of bullying and break it apart. This is not a perfect world. People bully but you need to find a better way to stop it than punishing us or putting us in jail. That is not going to work. We want you stop kids from bullying us all together. Not just one person is bullying, everybody is bullying. I think we need to all chill and maybe if you are mad talk to somebody or just keep to yourself. Don't go out punching people or being rude, be better and get help. People can't tell you what to do. If you want to go out and be mean do it but you know what you are getting into. That's the point people know that they are bullying and they don't care. So make them care by showing them support and listening to them.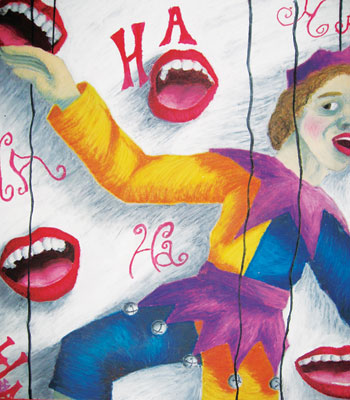 © Carollynn G., Hawthorne, NY