Watch for who stole the watches
January 5, 2018
"Breaking news from CNN with me Anderson Cooper. Five solid gold watches were stolen yesterday around 3 o'clock. These priceless watches, worth 1.2 million dollars each, just arrived today. If these watches are not found it could hurt Jared's company forever." Anderson smiled at this remark. "Now I bring to you Joe West, the detective on this case. We are skyping him live from the scene of the crime. Joe? Joe? Can you hear me?"
"Yes, I can hear you," replied Joe.

"So, what do the police know at this point about the crime?"

"Well, right now there was only one witness and we are unsure whether he is actually a witness or a suspect at this time. We don't have a lot of information about the watches. We know that they are priceless, but we are unsure exactly when the watches were stolen. Our witness Leonard Snart has said that a man wearing a mask broke in knocked out the security detail and threatened him with a gun, when we approached him about the crime he said it was a late night and he couldn't recall exactly when it happened. The cameras were somehow wiped so we have no way of knowing exactly what happened."

"Did anyone see the witness anytime later that day," asked Anderson.

"Yes," Joe replied. "The doorman of the building that the witness is staying at for the time being said that Leonard seemed very nervous and was extremely put off, Pierre the doorman, said that Leonard was wearing a nice watch he had never seen before and was playing with something in his pocket. Leonard however says, and I quote 'The watch was a gift from my mother. She really wanted me to look nice when I proposed to my girlfriend.' Wether this is true or not we can't say."

"Thank you Joe. That was breaking news with Anderson Cooper, we will inform you of any updates on this important investigation. Up next the weather forecast calls for some much needed rain."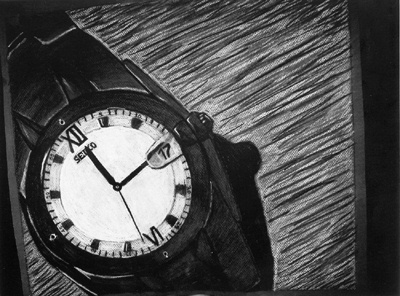 © Rachel U., Danbury, CT