Angels
March 11, 2016
Blindly, I ran.
Away, I ran.
Tears stung my eyes as I ran up the stairs of my apartment complex. The elevator was to slow, and too crowded.
I couldn't see people right now.
I went all the way up to the roof, without even thinking about it. The roof, the one and only sanctuary in my life. I went to stargaze, and watch over the city. It was beautiful when the lights were all up. I went up there a lot, when things got really bad. I needed help, and there was no one to go to. No where to go
Except the roof.
I thought I was the only one who went up there, but apparently not. When I got there, there was another person there, with a telescope. I stopped in my tracks, quite unsure of what to do. The woman looked to be about in her mid-fifties, with salt and pepper hair that went to her shoulders. She was also wearing sweats. She turned to look at me and smiled in a comforting way.
"Child, why are you crying?"
I wiped my face and replied, "I really don't want to talk about it. There's just a lot going on at home right now," I started sobbing. The lady came and wrapped her arms around me.
"It's ok, dry those tears. There's a good girl. Here's a tissue."
I took the tissue and blew my nose.
"Would you like to look through my telescope?"
I sniffed and nodded. I then asked, "What are you looking at?"
"The moon," she responded, "And the stars."
I found myself telling her, "I came up here to stargaze to. I used to do it a lot before…"
I stopped, and the tears started coming again.
The lady gave me another hug and guided me to her telescope.
"Maybe a peek at the stars will cheer you up a bit?"
We stargazed through her telescope, which turned out to be hot pink. I hadn't noticed it in the dark from so far away. When I questioned why a pink telescope, the lady laughed and said, "Why not?"
She made me feel better. She made me feel loved, something I hadn't felt since my mother died, and I told her so. I told her everything. I told her about mom being gone, and my father blaming it on my siblings and me. Money problems. School. Everything. We stayed there for hours, talking and looking at the stars.
When I couldn't keep my eyes open any longer, she kissed my forehead and sent me off to bed, saying, "You're a tough child. Keep hoping and praying and reaching out, and life will straighten itself out. You have a good heart. Keep being strong, for your family and for yourself."
"Thank you," I said. I started going down the stairs, and then ran back and asked, "What's your name?"
"Martha Smith," she replied, "Room number 311."
"Will I see you again?"
She smiled in a queer way, "Perhaps."
***
The next day, I went with a thank-you card for miss Martha. I buzzed her door over and over, but no one answered. Trying the doorknob, I found it unlocked. I walked in and found nothing was there besides two inches of dust on the floor. Beginning to feel a bit uneasy, I went to the next door neighbor and knocked on their door. A young woman answered with a baby on her hip and a toddler clinging to her legs.
"Where's miss Martha Smith who lives next door?" I cried.
She gave me an odd look, "Sweetie, Miss Martha died over a year ago. Her apartment has been empty since," she paused and smiled sadly, "Such a sweet lady to. She would always look at the stars with a hot pink telescope of hers."
I reeled back, my mind spinning.
She frowned, concerned, "Is there something wrong? Can I do something for you?"
"No ma'am. Thank you so much for your time," I managed to say. And then I ran.
Blindly, I ran.
This time I knew where to go.
I took the stairs three at a time, and hurled myself onto the roof.
Gasping for breath, I looked around. There was a hot pink telescope in the corner, with a sticky note attached to one end.
Perhaps.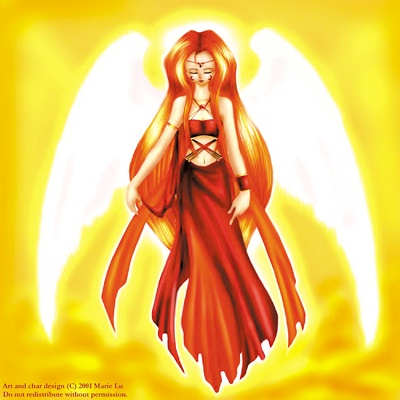 © Marie L., Sugar Land, TX