Story Time
July 27, 2015
I despise my life, always have and most-likely always will. Perhaps it's normal to not enjoy the life that has been bestowed upon you, but my hatred goes farther than that. It, in fact, goes so far that I've had to make up a second life for myself.
It all started when I was about six. The protagonist of my thrilling alternate life was the young and beautiful princess- who happened to look exactly like me- of some far off Eastern European country.
I got so wound up in my own imagination that sometimes it was hard to tell what reality was the right one. I often found myself speaking gibberish in public places and claiming that that was in fact my mother tongue. In truth this story was helping me get through some rough times.
You see, the fact that my parents had abandoned me was, at the time, a reality that seemed too real to deal with. My parents had given me no valid reason for why they would possibly think that it was a good idea to leave a six-year-old all alone.
The king and queen of some far off Eastern European country had: our beautiful country was at war with one of our ruthless neighbouring countries and my parents had left their kingdom in their daughter's safe hands.
All was going well: the story got me through my misery and gave me a go to excuse for when I was caught stealing- just talk gibberish and all will be fine. I remember one time, when I was about eight; I was caught stealing a loaf of bread. So when the shopkeeper asked me why I had stolen it, I simply answered: "Gnarnishfaderwackle!" Even when they called the police, I was persistent with my gibberish. Needless to say, I got away quite easily with that.
The three years I lived by myself were the happiest of my life. Life was simple and worriless and I almost had no use of my alternate life. But then, three years later, some lousy snitch told the government that there was a nine-year-old living by herself in the- thought to be- abandoned mansion on the hill.
"She won't talk," I hear a distant voice say. Everywhere I look I can see darkness. I cannot even make out a single object in the room. Yet, I'm still pretty sure I know exactly what the room looks like; I've seen these kinds of rooms many times in murder mystery series. I'm sitting on a metal chair, in front of me there is a large metal table, on it there is a bright desk light and those are the only objects decorating the room.
"I tried all the tricks in the book, but the rat won't squeal."
"Dammit Bill! Without a clear confession we cannot keep her here much longer!"
"Well you try something then!"
Oh yeah, funny thing: I'm being falsely accused of murder.
So after I got rudely evacuated from my home, I was placed in 'Happy Days- orphanage for the happy', which has got to be to the most ironic and ridiculous name for an orphanage imaginable; firstly, the days I spent there were the least happy of my life- even less happy than the days with my foster parents- and secondly, no orphan is happy so they're actually saying no orphan is welcome in their orphanage. It was the most sombre place I have ever had the displeasure of entering. Everything was grey; the walls were grey; the hideous uniforms they forced us to wear were grey; the bed sheets were grey; even the food was grey.
Naturally I sought comfort with the only person I did not despise: my alter-ego. This sudden twist in my life fitted nicely in the tale of the young and beautiful princess of some far off Eastern European country. I needed a reason for why everything was so grim and grey so I killed off the queen. It was a tragic death. My father, the king, had been severely wounded in battle. The queen had already been uneasy about the war, but the shock of seeing her true love in pieces, shattered her heart.
Even when the king recovered, she did not. For she knew he was going back out there to face the enemy in battle. Every day and every night she prayed to the gods for her husband's safe return. She was a nervous wreck and all her worrying eventually destroyed her. She became gravely ill and with her last breath she requested him to go back to our kingdom and lead the war from within the safe walls of our castle.
The king seemed lost without his other half. He spent months mourning her. He stopped eating, barely left his bed chambers, and spent his days moping about. Finally he was forced to remember his wife's second and final request; to take another queen. So, much like matron Day was searching far and wide for parents that would want a hopeless case like me, the king looked for someone worthy of marrying him and, most important of all, worthy of taking care of the kingdom.
I hear footsteps approaching me. The desk light is turned on and I'm momentarily blinded by its unnecessarily bright light. I take in my surroundings and realise that I had been mistaken about the room, there is one more object: a tiny dustbin in the far right corner. I look up and see the man who was talking to Bill glaring down at me. He is quite handsome. His grey eyes shine brightly on his tanned, angled face. Through his uniform I can see that he is well-trained, with broad shoulders and massive arms. But his attractiveness does not take away how frightening he really looks. His grey eyes shine, yes, but so does the sun and there is no way in hell I would ever want to get near the sun.
"Alright," he says and I notice a hint of an Australian accent he is obviously trying to supress. "It's time that you and I had a little heart to heart. We know you did it. We have a witness. All we want to know is why you killed your foster father."
The couple that had decided to adopt me was extremely young- somewhere in their late twenties. The man was amiable; he and I had a few nice talks together before he was murdered and he offered me space whenever I was in need of it. Next to him the woman was all the evils in the world crammed into one body: she was always badgering me about stupid things that I did not want to talk about and reminding me about how they 'saved me'.
Unlucky for me she was a stay-at-home mom and my stepfather worked all the time. So I spent many enjoyable hours listening to her ongoing ramblings about why she would be a perfect news-anchor or weather lady- 'she just had one of those faces'- as she made me do redundant, disgusting chores around the house. And when I refused to do these chores I was once again reminded that I was so lucky to have been saved from that cruel orphanage. You could say my life was still extremely bothersome, so the necessity of having an alter-ego was still there.
Simultaneously to getting new parents in this world, the Eastern-European princess got a new mother in my other. It was in the best interest of the country that the king married the eligible princess of the country we were at war with and therefore ending all wars. And like my foster-mother she was hell on earth. So as the king was performing his royal duties, the princess was stuck with her, listening to her going on about how the king was lucky to find her because they were perfect for each other.
Everyone thought she was simply delightful, but I knew where her loyalties lay; she was out for the kingdom. I could see it in her eyes; she wanted to rule. Alone. It was obvious; she was the youngest and therefore she would never get the throne, unless she married a king. I tried to tell my father about her deceit but he would not listen to me.
"I'm waiting for an answer!" the man says as he bangs his fists onto the metal table. I try to hide a smirk, but it is in vain. He raises his eyebrows and I can see his resentment towards me in his eyes. I'm nothing but a filthy street rat to him. I can't blame him for thinking so low of me: my clothing is tattered, my hair is knotted and I am covered with filth from head to toe.
"If I were in your situation, I would not try to offend me," he says and I can feel a few droplet of saliva fly onto my forehead.
"I did not do it," I finally force out of my mouth and hear my voice croaking due to lack of speech.
"Oh please, look at yourself and tell me you don't look guilty,"
"I can't,"
"What?"
"One cannot look at oneself without a mirror, it's impossible, and seeing as there are no mirrors in this room-"
"This smug behaviour of yours can be held against you!"
"I did not do it!" I articulated every word with so much effort it hurt my jaws.
"Your foster mother says otherwise."
"My foster mother was delirious."
I decided to tell my father about the way my mother maltreated me whenever he was away, and we got into an enormous fight. How dare I insult my loving mother like that? How dare he give consent to her despicable behaviour? How dare I call her behaviour despicable? The fight got so heated that at one moment I decided to run away. Where I was planning to go to I still have no idea but I had to get out of there.
I had never been the best runner and stumbled over many branches, dirtying my clothes, and tearing my newly bought jeans. I had got into a sort of rhythm of falling and getting up: run, fall, getup, run, fall, getup, run, fall, getup, run, run, run… I came to a sudden halt. For the first time that evening I realised that it was dark. Extremely dark. The darkness had crept up on me so slowly that it was such a surprise when it finally pounced to engulf me into its nothingness.
I was overwhelmed by the sudden realisation of the eerie situation I was in: I was a fifteen-year-old girl, alone in the woods, at night time, with no money, no phone, nothing. After that realisation more started to unravel: I was hungry, I had no place to run to, and some injuries on my leg really needed to be tended to.
"She says you and your father had a fight. She says you ran away after that fight, being the little coward you are. She says that you returned after your childish, little run looking like you do now and that you stormed in with a gun in your hands. You had probably run away to get it and now you wanted to use it. She says she begged you not to do anything foolish and that she asked you if you had taken your medication and that you answered by shooting her in the foot. We have proof of this. Your fingerprints are on the gun. That poor woman is in the hospital with a bandaged foot. You cannot possibly deny this any longer!"
"What did she say happened next?"
"You know what happened next, you did it!"
"I didn't do it!,"
"Next, she says, she fell to the floor in pain and fainted, her last memory is of you laughing."
"Bull!"
"What?"
"Bull! It's all a lie."
I had punished my parents enough and decided to run back home; they were probably worried about me. The woman might have despised me, but they were still my parents and parents are supposed to get worried when their children run away. I turned around. I ran as fast as I could, with the occasional interruption of falling to the ground. Run, fall, getup, run, fall, getup.
My alter ego was on the run as well; the queen's men were after her. If only her father had listened to her. If only he had not been so blinded by whatever he felt for the woman- truly, it could not be love, no one could love that witch. If only she had voiced her concerns, before he married her.
I opened the door and saw my foster mother standing in the living room with a gun in her hands.
"Hello sweetie," she said. It seemed as though her voice was twice as high as her normal pitch. She was shaking from head to toe and I could not help but think she looked like a Chihuahua. There was something in her eyes. Some touch of insanity that seeped through her iris. She barely blinked, making the whole sight even more terrifying.
"Mom… Did you take your medication?"
I came closer to her in attempt to take away the gun, but instead she hit me on the head with the fat side of the gun. I fell to the floor.
The queen's men got hold of my other persona rather quickly, much like me she had never been much of a runner. They tackled the poor girl. She fell to the ground, hard. The blow had knocked her unconscious.
Everything was black. I could hear her running up the stairs; her stocky physique caused for a muffled bonking sound with every step she took. I scrambled to my feet and swayed a little on the spot, trying to blink away a head-rush. I sprinted after her. I was halfway up the stairs when I heard a loud bang and a scream.
I bashed open the door. She was wailing on the floor, muttering 'what have I done!'. She stood up and raised the gun to the height of her head. Very slowly she turned the gun around. The small muzzle was pointing to her face. Gradually I saw her finger wrap around the trigger.
"NO!" I screamed.
I ran to her side and forced down her arm. It was too late. She had already pulled the trigger. All I managed to do for her was make sure that the shot was not fatal; it went into her foot.
"Everything adds up, you cannot possibly still claim you are innocent! It's time for you to stop your shenanigans and just confess!"
I gaze at the handsome police officer, then at Bill, then at my feet.
"You're right," I say. "Everything adds up and I can't possibly still claim I am innocent. It's time for me to stop my shenanigans and just confess: I killed him. I hated him. From the moment I met him, I hated him. I wanted to get rid of him. I wanted to do more than just shoot him. I lusted for his wasted blood trickling onto the floor as I watched the life leave his eyes. But that wretched woman called you before I had the chance to do anything more."
The man bares his white, straight teeth, "I knew I could make you squeal."
I am lifted to my feet by Bill and the Australian man. They drag me along long corridors, until we come to an open cell door. I am shoved in and they close the door behind me, locking me up and leaving me to rot for a crime I did not commit.
There's only one thing you should know.
This is not real.
I am the princess of an Eastern-European country.
I am not being falsely accused of murder.
I am being held hostage by my step-mother's country.

We are, yet again, at war.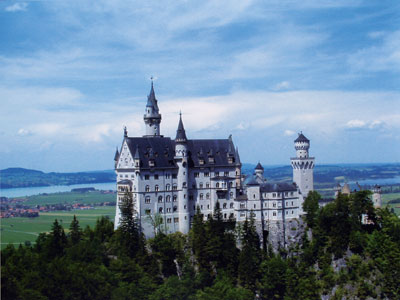 © Trenton O., Highland, UT