Play With Me
October 18, 2014
 Aida was told that she was not to sing. Mommy told her with three sharp taps on the head – no, no, no. Bad Aida. You are not to sing.

But Aida was lonely when she sat alone in her room, day in and day out. She looked out her grand window, veiled in gentle spider webbed frost. The old oak tree outside was losing its last red leaf. It had been a long time since Mommy had taken her climbing; last time, Mommy had fallen. There was a crack, and Aida was so afraid she covered her bright black eyes with her soft hands.

Aida was told that she was not to speak unless Mommy spoke to her alone, in the middle of the night under muted whispers. "They'll hear you," Mommy said, her braided hair shaking slightly as her chin trembled in the shafts of light peeking from under the door. "And if they hear you, they'll take you away from me."
Aida would reach her hand out to stroke Mommy's cheek, her hand soaked and heavy with Mommy's tear trails.
This had happened before, but with a different Mommy. Now all Mommy ever did was tell Aida no, no no, and Aida was growing bored.

Mommy traced her finger over the A-I-D-A sewn into Aida's shirt pocket. Mommy knew that she was not to indulge Aida, and that Aida had been bad. Just three days ago Aida had accidentally cut Mommy's hand when they were cooking together. And 2 weeks before that, Mommy had fallen out of a tree. When she looked up, she found Aida covering her shiny black eyes in fear. But on her thin pink lips was the smallest of smiles, one that was not totally hidden by the bell sleeves of her dress.

And Aida was tired of this Mommy. It was fun in the beginning, when Mommy let her sing and talk and walk about. Now, Aida was restricted to the smallest corner of the room, her body folded over in a limp impression of a little girl. It had been a long time since she and Mommy had last "played". With a twist of her hand, Aida tugged at her hair, pulling it loose from the braids Mommy had given her. She had braided it too tight, and it was giving Aida a headache. Hair loose, legs wobbly, Aida stumbled to where Mommy slept and curled in next to her, soft hands resting on Mommy's skin.

In the morning, the household was in a panic. They found Mommy lying outside, her body crumpled with limbs jutting out at odd angles. Calls were made and then a siren was heard, but Aida knew it was over. She was so glad that she convinced Mommy to go for one more climb, outside on her favourite tree now covered in invisible ice.

A couple of days later, Aida was stuffed into a cardboard box and put away. She waited amongst mothballs and dust bunnies, until one day a bright cheery face poked its face over the rim of the box. Two plump hands plunged into the box and grasped Aida by the waist. They flew down the stairs and into the kitchen, which Aida no longer recognized. The stove looked newer, with bright metal lining that reflected Aida's frozen expression. A quick flit of her eyes revealed that her favourite climbing tree was still outside; that was good.

"Mama, Mama!" the girl yelled. Aida watched as Mama turned to look at them both, a gentle smile adorning her face.
"Look what I found!" the girl continued. Mama laughed and reached down to pat Aida's hair. "What a lovely find," she concluded. Then as Mama turned back to her newspaper, the girl sprinted back up the stairway and jumped into her bed, Aida held tightly in her arms.

Alone in the room, Aida reached out and hugged the girl too. She jerked back in surprise, her mouth a tiny O at Aida's touch. Her black eyes shining with new life, Aida smiled at the girl and opened her mouth.

"Are you my New Mommy?"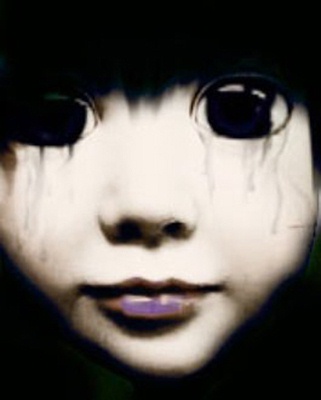 © Stephanie C., Gaithersburg, MD