Rosen Piraya
September 2, 2014
If you've ever looked at a gem close enough, you can begin to see its clarity and edges.  Everything about a gem can be compared to that of a body.  It looks soft, yet rigid in all the right places.  The light can dance across its faces and glimmer down its spines, but it can never truly reach the center.  The center is like a dark forest with cloud sulking just above the tips of each tree, dark and mysterious, filled with a light that can never be changed.  
In all my years, a gem like Rosen Piraya had never before crossed my path.  The man that brought it in was called Rufus, and he wasn't too much of a looker.  His dark hair, or what was left of it, was combed to the side; like he wanted to be handsome again.  Everything about his demeanor screamed 'disgusting', and I listened to those voices whilst forcing a smile.  It was a Saturday, and I remember it as clear as the gem he brought me.
"So, I hear that, for a lady, you really know your gems." A man with a sweaty face commented, leaning over the glass case to be closer to me.  On instinct, I moved back.
"Didn't know rumors were going around about me." I murmured back, attempting to keep my temper hidden.  He laughed, just a little too loud, and leaned in closer.  At this point his position seemed to be uncomfortable, and I resisted giving him a strange look.  His wife was walking just a few paces down from us, admiring a pair of earrings that were from Cuba.  She glanced back at the ringing noise of her husbands laugh, curious as to what got him going.  I gave the flirtatious man a sweet smile, and left the counter.  
The storeroom was freezing, most likely on account that my boss hadn't installed a heater.  I sighed.  I should've been working in a better place, due to my skill, but gem businesses were almost always family-run.  My co-worker, Steve, glanced my way.  He was probably one of the most attractive men I'd ever worked with.  His eyes were a muddy color, reminding me of melted chocolate ice cream.  Steven sneered at me, and I snapped out of my stupor.
"Honestly, Giani, if you're going to oggle, at least wear something pretty and put on a little makeup."
"There're customers out front, I'm taking your position," I said, glaring his way.  I just taught myself to ignore his annoying comments, and move on with life.  "Bosses orders, get a move on."
He slipped past me, mumbling something about spoiled brats.  I moved to lean over the same table he'd just been slaving over.  He was more efficient than me, but no-where near as good with customers and the gems themselves.  I used to actually cut and sell gems, pricing them, memorizing their structures… everything about those shiny rocks seemed to put me at ease.  Not ten minutes into the packaging, and Steven popped his head into the room.  
"There's a man here… he requested you." He seemed to growl.  I blinked, and went through men that I'd known over the years.  Truthfully, I didn't have many to sift through, and glanced back up at the boy.
"Did he say his name?"
"Why, are you buying drugs?"
I rolled my eyes and pushed past him.  He hastily went back to his post in the packing room, and I caught him going through everything I'd managed to pack to double check my work.  The store was empty when I walked out front, and my shoulders slumped in defeat.  Steven probably tricked me into taking up my original post.  I mean, technically I was supposed to, but who cares.  Just as I was about to turn around and stomp back, a voice called my name.
"Ah Giani, thank you for coming to see me." Said a rich, but spoiled-sounding voice.  I turned slowly, confused.
"Um, hi, how can I-"
The man took a deep breath, like he was getting ready to say some sort of confession.
It's been two weeks, and I can still remember the way his disgusting lips moved over his teeth, and the breath that washed over me.  The gem he brought me that day was a rare pink diamond, much like the Pink Panther, but a thousand times richer in color.  The Rosen Piraya was worth more money than some islands.  Outside, Rufus banged on my door.  I clutched the gem to my chest, leaning my head down to rest on the top of my knees.  
"If you don't hand over my gem, I swear I'll kill you!" He shouted, and I imagined his crusty lips stretching over his yellowed teeth, red in the face and screaming.  
I knew better.  This gem couldn't belong to someone like Rufus.  The way he walked, the way he looked… There was no way it could belong to him.  He was a thief.  
My flimsy lock shattered with a loud snapping noise, followed by Rufus stumbling into the cold storeroom.  His eyes met mine, and I stood slowly.  The room seemed to be a final frontier for the both of us.  Rufus took a step forward, and our fates were sealed.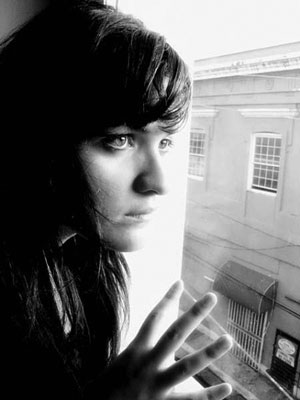 © Eveliz V., Bayamon, Puerto Rico