Anguished Love
May 9, 2014
"No, It's my fault, it's my fault," he sobbs, over and over again clutching her hand, stroking her face, as if his touch will heal her. She smiles up at him, and tries to lift her hand. He grasps it, oh how he grips it! Her eyes start to close. She works her mouth open and closed. He leans in, closer. "Love," he makes out.
Her eyes flutter shut.
"Nooo!" A heart wrenching scream rips out of him, he howls in anguish. Tears stream down his face. He throws himself on her sobbing, and clutches her hand with a wild hope--but she is gone.
"Oh God please!" he screams, falling to his knees in utter desperation, feeling as if his very soul is being slashed. The wind rushes past, tearing the words from his mouth, whipping them around, through the dark shapes of leafless trees. But he doesn't notice the storm brewing. All he can think of is her soft laugh, her eyes that radiate warmth, her red lips, her beautiful face. Gone. Now the scene is replaying itself in his mind. Exploring in the woods, daring her to climb. The fall. He squeezes his eyes tight, trying to block the memory of her terrified face as she fell. He had raced towards her, but it wasn't soon enough. And now...now she was gone.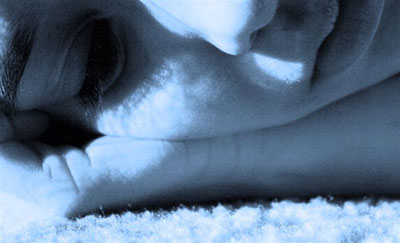 © Paula B., Katy, TX