Cab-Ride Claustrophia
November 9, 2008
Anna O... A patient of Sigmund Freud, she developed feelings of transference towards her doctors. Transference, a psychiatric phenomenon, is portrayed by the shift of a human's feelings for one individual towards a more available person. Plagued by this malady, Anna O. caused herself to believe that she was pregnant with the child of her psychiatrist. At one point in the transference, this patient even brought herself to experience the symptoms of a pregnancy. Naturally, Breuer (O.'s doctor at the time) brought his professional relationship to an end after learning about the strange feelings that his client was having.

Bustling with traffic, the city was nearly exploding on the evening of Thursday, March 13. As Louie, dreaming of Freud's Anna O., drove along the streets of New York in his lonely yellow cab, he eagerly anticipated the events that would be taking place later that same night. While rush hour flew by, he swerved alongside streets in order to avoid picking up passengers.

Finally, after nearly every entrepreneur on Wall Street had safely found his or her way home, only a few workers remained in the cold and dreary buildings that these stock brokers virtually viewed as their home. Among these workaholics was Stefan Delamorez. A citizen of the working class since his 14th birthday, Stefan knew nothing but the gloomy commute to and from NYMEX and the four walls of his lackluster corner office. Checking the time on his wristwatch, set seven minutes ahead of time so that Stefan would never miss an appointment, our protagonist (once again) grew frustrated with the world that he lived in.

"Late again," thought Stefan, "It's been four nights in a row now!" Amidst all of his complaining, he didn't even realize that his taxi was, indeed, already standing outside the front of the building. Fifteen minutes later, as he was walking out of his workplace, Stefan could already tell that today's car ride wouldn't be too dissimilar to the therapy sessions his mother sent him to as a young child.

Surely being the only son of Lucinda Delamorez couldn't have been too difficult, what with all of the fancy toys that Stefan grew up with. What Lucinda failed to realize, however, was the insignificance of toys on a young boy's upbringing. Although what was missing in Stefan's life on the parental front was made up with playthings, the maternal impact of his mother was still absent in his life. Much like Freud's Anna O., Stefan feared that he had been drawn in by the strange phenomenon that Sigmund Freud determined to be transference. Unlike Anna O. however, Stefan did not feel the need to fake a pregnancy to become closer to his chauffer/ psychiatrist.

Louie Sutton had been Stefan's cab driver for years. By now, Louie should have known his own schedule, but it was most probably a tinge of both carelessness and busyness that kept him from showing up on time on most nights. "Pick me up at 9:00 P.M. every night. Except for Thursdays, when I have to check my P.O. Box before 7. So pick me up at 6:35 on Thursdays. Oh, and Tuesdays. I need to be
picked up at 8 so that I can still make it to the cemetery before it gets dark. Er,and could you possibly make it here during my lunch hour every Friday? I need to visit… well, I guess it really isn't any of your business anyway."

No matter how unreasonable Stefan's pleas were, Louie abided by each and every one of them and never showed up much more than ten minutes late. He was quite aware that on most days, Stefan didn't even speak- that is, except for during his ride in Louie's taxi. Ever since the death of his mother three years ago, Stefan hadn't been the same person. More tragic than the death of Lucinda, however, was the death of Stefan's personality, as the former passed with the latter. Nevertheless, however quiet Stefan may have been in his workplace, all things changed the moment he stepped foot in Louie's faux-cab.


Arriving at the ultra-modern penthouse surely didn't come as a welcome on this particular night, when he was greeted by the blazing of red orange flames in his apartment. The blaring of police sirens and the screaming of panicked neighbors definitely didn't allow Stefan much leeway, but he eventually came to one conclusion: this fire could have only meant one thing- Louie had become claustrophobic within the confines of his own cab-ride relationship.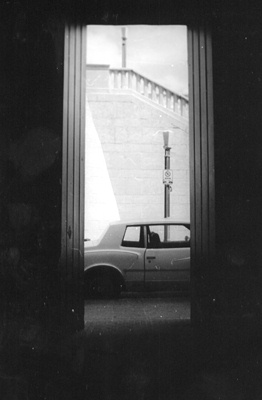 © Ethan F., Marblehead, MA