The Woods
November 16, 2012
It was cold, dark, silent. So silent it would be hard for one even to imagine sound; you wouldn't be able to hear things in your head. It was as if the silence was so impenetrably thick that it seeped its way through your bodily orifices and laid to rest in your being. In those woods, sound was impossible.
The cold would chill you to the bones, but the sweat slowly turning to frost as it dripped down your back would be the least of your worries. This cold seemed to come from the inside. It was an inescapable discomfort that no sweater, no winter hat could ward off. It was on the inside.
The darkness--oh, that terrible, terrible darkness. The darkness was a threat in itself. If you had some how gotten in the midst of that wood, unconscious of the eternal trek you would've made to get there, you would have no indication of your whereabouts. Your eyes wouldn't assist you in determining whether your were drifting through the folds of space or engulfed in a plastic bag. No--it was the sixth sense that would compensate for your lack of sensual input, the sixth sense that would tell you where you were. It would feel through the heavy, still air to the trees around you. The crooked awkward, intimidating trees. Those dark, unearthy trees.

And the things lurking among them.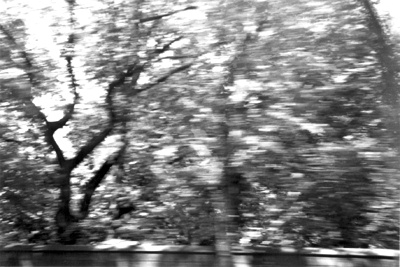 © Sarah M., Phoenix, AZ