The Tales Of Carlisle Craven
May 27, 2012
One despicable and rather grotesque morning, Carlisle Craven woke up in a pool of blood. Or at least he thought he had. It seemed lately, blood was all carlisle could think about. He saw it everywhere. Dripping down the walls. Oozing out of the mailbox. Pouring from his bathroom sink. All he wanted was blood. He craved It every second. To smell it's odor. To taste it's tangy sensation. Carlisle Craven was dying. All he needed was some blood. It had been weeks since his last meal. He needed to feed.

He weakly stumbled to the mirror, supporting his body with his frail arms on the dresser. His long black hair in tight knots. His eyes, once a deep flaming red, now a dark burgundy. Large dark circles formed around his eye sockets. His clothes hanging loosely from his body. His skin, wrinkled and gray. Carlisle Craven looked like he'd been dead for a hundred years. Only because he had. He couldn't remember what It was like to be alive. All he could do was take slow, useless breaths and try to move the heart that would never beat again. He was dying, A second time over. He had to drink soon. But how? He could scarcely move. He made up his mind to find someone. Someone close by. Someone who wouldn't be missed.

Carlisle groped his way to the window, slowly peeking through the drapery. The sunlight burned his eyes. He quickly adjusted. He couldn't show himself. To the rest of the world, he didn't exist. Merely a fictional character. No one except his victims ever saw his face. His pale skin. His unnatural eyes. Then finally, he spotted her. A new neighbor perhaps? A visitor from far away? Young and seemingly alone. Perfect. Carlisle Craven had spotted his next victim. An albino. Tall, longer hair than even his, and gleaming eyes. He could taste the succulent blood running from her veins. As she stepped inside what he supposed was her house, he retreated from the windowsill.

All He could hope for was sustenance. For many hours he sat an thought. Picturing her image. Trying to convince her. His will couldn't be resisted. A name? Porcelain Ilvenn. It would not be of use for much longer. Finally a heavy knock sounded on the door. Quickly, Carlisle cleaned himself up and headed to answer his caller. Slowly he opened it.

"Hello Ms. Ilvenn. I've been expecting you." He grinned widely as the heavy door closed behind her.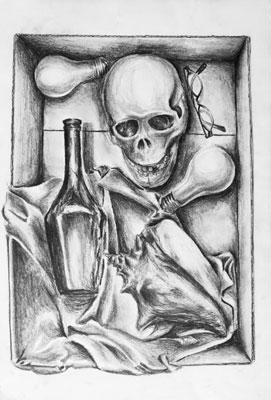 © Karen S., Norwalk, CT