Pink?
July 14, 2011
There was an accident. I was involved with something when I was a young kid, it was stupid, reckless even, but if I had known what the consequences were going to be, I would have never done it. To ask me if I regret it would be a stupid question. I regret nothing. My choices are my own, and I take them in strides, whether they be for the good or for worse.
But, to say the outcome of that incident was a positive, then you would be mistaken as well. The same day I altered my fate, I met a person who would be the one to alter me. To say in the slightest, is that this person would always and never be dear to me. For that, they saved me from my consuming darkness, I am forever be grateful, but they as well, were the one that had caused it.
They stare at me with deep, icy gray eyes.
Mine are blue.
In the depth of their irises, I see no love, in which they dare to whisper to me. I also see no shimmer of amusement when they give me that cold smile of theirs.
I am feeble to command at their whims for I am in debt, so they do what they will at their leisure and when their all done, they leave me on the floor. Broken and untended. I rake my nails upon my flesh to rid myself of the sin they had placed upon me. To look down on me with scornful eyes, I rise my face to look upon you with a confident glare. Yet, they make me tremble in bendable ways, shoving my weakness in my face like a conundrum.
They lean forward towards my ear and whisper all of their demands, wreaking havoc upon my brain. Sending tears rolling down my face, reminding me of my mistake, over and over again. Never loosening their iron grip they have on my shortened leash. Blood is what they wish to see upon my skin, pouring rapidly from my veins, emptying my heart with all of my unbearable burdens.
Then suddenly, I am graced with thoughts that do not appeal to them, using them as a weapon to keep myself strong. I fix them with a hefty glare and I see their resolve begin to wane. They stare back with shaken face and I keep my stare prying forward. Meeting them eye to eye.
They stare at me with deep, icy gray eyes.
Mine are blue.
Then, out of nowhere, a hand is raised upon to me in ignorance and anger. My cheek is smacked with a tremendous force and my head snaps side-ways. I look dazed upon the floor, eyes wide in disbelieve. Never had they raised against me, no more had I done the same to them. My face throbs in pain as my ears ring with the sound of blood rushing to my brain.
The game had been changed. The rules had been discarded and renewed. Switches reversed and anger rides all of the momentum.
As I tried to work through my hazy mind and incoherent thoughts, a smile...no, smirk was placed upon their lips in a disdainful manner, no amusement reaching their eyes once again. Our eyes meet and the smirk becomes a grin hinted with shades of madness. Their lips move and it takes me a minute to process it. I blink, confused as my eyebrows nit together.
They said I looked good in pink.
Funnily, I don't like pink.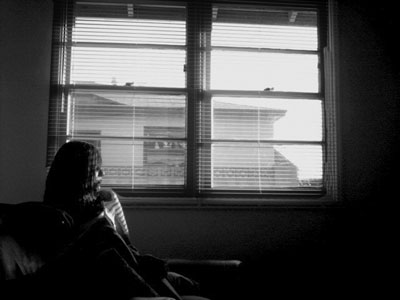 © Roxana R., Tustin, CA