The Hollow Man
January 25, 2011
Many times have I gone to the window at the front of this house. It is on the second floor and, when viewed from the street, rises out of the sloped, black-shingled roof like a cliff of white siding and powder-blue trim. I do not turn on the lights. I have no fear. This house is not haunted. Not by a ghost anyway. This house is haunted by a hollow man who many times has come to the cliff-like window on the second floor.


I can see the neighbor kids playing basketball across the street with their friends. Friends. The hollow man has friends, acquaintances. He likes to make his friends happy. When they are happy, he is happy; and he is happy because they are happy. And happiness is good, so he hears. That is what the books his parents read as a child said. What they said when he was full, too young to remember (and dwell upon) the past, too young to conceive an unfortunate future. He'd relished the lively immediacy of the fleeing moments…In time, present became past, and, whether through fault or through fate, the hollow man missed the change. The world hurtled on minus one.


I turn to leave the second-floor room at the front of this house, and the hollow man comes with me, though I refuse to honor him with my gaze. As I go, I pass a mirror hung on the wall and pause at a quirk of the passing reflection. Looking closer at the mimicking glass, I see not me but the hollow man. His face remains calmly pensive though screams of terror rebound off the inner walls of my empty being.


There is no one in the mirror.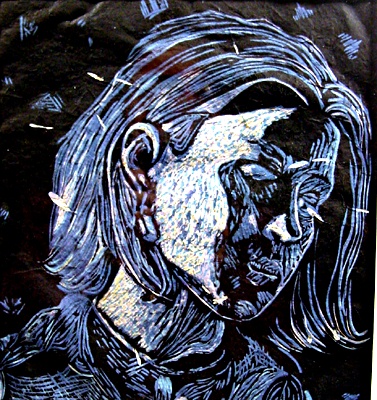 © Lauren P., Spartanburg, SC