Handprint on my Heart Part 1
November 11, 2010
Sierra

I remembered that day all too well for it to have been a normal day. It was the day we killed Molly Albriton. Molly had never been a normal girl. She was the preacher's daughter stereotype. Except that her father was an ex-convict. She was the girl who wore ankle length skirts and turtleneck sweaters to school, who could never pronounce the sound S correctly, who read books at lunch instead of talking to anyone, who never joined a club or a sports team, who got 4.3 grade averages without even trying. She was the girl everyone hated for being so perfect, us most of all. Maybe that was why we did it. Maybe that was why we tormented her. Maybe that was why we drove her to the edge of sanity, drove her over the edge, drove her to pull the trigger.

That was the day that Molly Albriton committed suicide. The day that everyone started to blame Marcus Bocci for Molly's death instead of us. That was the day I would never be able to forget.

Molly

I remembered that day all too well for it to have been a normal day. It was the day "The Seven" murdered me. They may not have pulled the trigger, but they might as well have. "The Seven," were Ella, Marissa, Danielle, Alison, Jessica, Nicolette, and Sierra. They were the most popular girls in school. They were also the most feared. "The Seven" could send wrestlers and football players to the bathroom, crying. They were that vicious. They could've taken down anyone in the school. And yet, they had chosen me. Defenseless, friendless, alone. Me.

But anyways, I remembered that day. Remembered standing in the bathroom, clutching the sides of the sink. Remembered the dead weight of the gun in my sweatshirt pocket. Remembered shaking so much that I dropped the bullets as I loaded the gun. I remember the gunshot, loud and clear, right below my ear as I pulled the trigger. That was the last thing I remembered.

That was the day "The Seven" drove me so far off the edge that I committed suicide. The day that Sierra Holberq strutted through the hallways with Rob's arm around her waist and kissed him in front of the whole school; in front of me. That was the day I would never be able to forget.

Sierra

That day was behind us now, behind me, but I could not forget it. After that day I prayed every night that Molly would forgive me. I doubt it worked. Especially after what happened to the other girls.

It hadn't been proved, or course, that Molly Albriton had had anything to do with their murders. Northing had been proved. How could anyone prove anything with Molly six feet under and dead for two years? It was impossible, so no one even thought about it.

No one believed me. Why should they? But I knew. It was always there, in the back of my mind. I knew. No one understood how I could know, but I did. And it scared me. The thought of it scared me so bad I had barely slept a wink since they had found Ella's body six months ago. I was scared because I knew. Because I knew what I had done to her. Because I knew she would come after me next.

Molly

I was almost done. Almost done doing to "The Seven" what they had done to me. Ella, Marissa, Danielle, Alison, Jessica, Nicolette. All done with. Dead. But I wasn't finished yet. I would not be done until I had finished off every living person that had ever hurt me. As of now, only two remained solidly implanted in my mind: Sierra Holberq and Rob. Rob was the guy who had always had my heart. It had been unrequited love at first sight. And Sierra? Sierra had been the leader of "The Seven," and the one who had stolen Rob from me. And so now I would be the one to steal something from her; something every bit as precious as Rob had been to me. It was quite simple. I would steal her life.


Sierra

I had to know, wanted to know, needed to know. What part did Molly Albriton play in the murders of my six best friends? What sick, twisted thing was this dead girl out to do to us, to them, to me? I needed to know, so I decided to find out.

Molly's parents, Mr. and Mrs. Albriton, knew nothing of how I had teased and tortured their daughter at school. They only knew me as one of Molly's classmates, the one who was shaken by her death just a little bit more than the others. The only one who had made an effort to talk to them after her funeral, one of her distant friends. They trusted me. I hated to misuse their trust, but I had to. Because I needed to know.

So after school I walked over to the Albriton's house, a place I had been so many times before. I gathered my courage on the porch, reached up, and rapped on the door. Each solid, resounding knock made me flinch.

Molly

I guess I ought to explain how I can murder, how I can kill. I am supposed to be dead, after all.

Death and the afterlife are curious things. Everyone seems to want to sell you some part of your life back. Luckily, I was able to get all of mine. I am not alive, really. Nor am I dead. So… I guess that would make me undead. The undead can do many things, I've discovered. I can eat, I can sleep, I can walk, I can talk, I can kill.

Sierra

Mrs. Albriton's worn and weary face lit up when she saw me standing on the porch. "Sierra, dear, whatever brings you over here to call on us? Come in dear, come in."

I stepped over the threshold and immediately teared up. Everything here reminded me of what we had done, of what I expected her to be doing, of what she might do to me. Mrs. Albriton folded me into a hug.

Molly

Killing "The Seven" was turning out to be very easy, very satisfying, fulfilling. There was this rush of adrenaline, this overwhelming feeling of revenge and hatred that came over me whenever I completed another part of the story, another piece of the puzzle. And now I was ready to put the last pieces into place.

Sierra

"Well," I began, in answer to Mrs. Albriton's question, "I-I've been thinking about Molly a lot lately, and I was wondering, could I just maybe go into her room, see some of her stuff, just think for a little bit?"

I noticed that Mrs. Albriton was tearing up too."Well of course, dear. Except that we don't have Molly's things in her room anymore, it was just too much. We moved them to the guest house. But I'll take you out there to see her things."

"Thank you," I sniffled and nodded. Mrs. Albriton put an arm around my shoulders and led me out the back door, along the path, and to their guest cottage. I looked up and noticed the tears streaming down her face.

"I haven't been out here since we moved her belongings," she said. "It's just-" she turned away from me. "If there's anything you need, don't hesitate to ask, dear." And then Mrs. Albriton turned and walked away, leaving me alone in front of the cottage where Molly Albriton's belongings were stored.


I took a deep breath, prepared myself for what I might find inside, and turned the doorknob. It opened with a soft click.


Molly

My parents didn't know I had come back. The only ones who did were dead, murdered by the one they had teased, tormented, killed. When I had reentered this world, I faced a problem that I hadn't thought about before: what was I to do? Where was I to live? How was I to eat? Luckily, all of these problems were met with simple solutions: my parents had moved all of my things to the guest cottage to the rear of our house. That solved two out of three problems. The other solution came in a more gruesome form. I could either hunt in the woods behind our house, or I could have food delivered from the local grocery. I chose the latter.

The woods were my solitude during the day, my escape. I spent most every waking hour out in the woods, by the little stream that ran through the back of our property.

Sierra

I was prepared for almost anything: bloodstains, zombies, corpses, Molly coming at me with a knife, but what I wasn't prepared for was what I found myself looking at. The cottage looked completely normal, with the exception of Molly's belongings organized in an almost exact replica of her room back when she had been alive. I walked around as if in a trance, touching first the dresser, then the desk, and then pausing to sit on her bed.

I sat down and forced myself to take deep breaths in an attempt to stop the room from spinning. I fell backward, and my head landed on something hard. Surprised, I jerked up, and pulled the object out from behind me. It was an old yearbook; our freshman yearbook. I was puzzled as to why the Albritons would leave Molly's yearbook lying out on her bed, but I thought nothing else of it.

The book opened with no audible crack, just a soft rustling of pages, like it had been opened and closed hundreds of times before. I flipped through the pictures of sophomores, juniors, seniors, until I found our freshman class. I turned the page once and nearly dropped the yearbook. The page had been drawn on in red ink. My breathing returned to normal, and I looked down again.

I saw that the pictures of some of our classmates had been circled, but they looked so young I couldn't recognize any of them. One by one, I checked the names for the corresponding pictures: Ella, Marissa, Danielle, Alison, Jessica, Nicolette, Rob. Me. Six of those pictures were covered by sloppy red x's. Those were the pictures of Ella, Marissa, Danielle, Alison, Jessica, and Nicolette. It was all there, plain and simple. Molly Albriton had murdered my best friends.

I couldn't breathe, the room began to spin. I clutched the yearbook in my hands, and willed myself to calm down. It was then that I noticed a new detail. Each of the circled pictures had been numbered.

Molly

I had been back for close to a year now, waiting, biding my time. I remembered how long it had taken me to plan each of their murders. The circumstances, the date, the weapon, where they would be found. It had taken me months, and then I had been able to begin.

Sierra

I looked at each of the pictures, reading the numbers beside them. Ella – 1. I remembered the day they had found Ella's body. Some poor freshman's scream had sounded up and down the hall when she opened her locker and the lifeless corpse of Ella Croffeld had fallen out, landing on the cold linoleum floor with a dead thud. Strangulation, the police reports had said. Repeated stabbings. No one knew who had done this to her. No one except for me.



Molly

Ella Croffeld used to be my best friend. So I never understood why she later treated me the way she did. She had betrayed me, stabbed me in the back. So that's exactly what I did to her. A Wednesday after school, on a day that I knew she would stay late for help, I cornered Ella in the girl's bathroom, the one that none of the teachers ever dared to go into. You should've seen the look on her face when she saw me: wide eyed, panicked. I had relished every second of it. I never explained to her what I was going to do. I just did it. I stabbed her in the back with a kitchen knife. We were even. But I wasn't about to let it go that fast. So I ended her life. Strangled her with a cord I had found in a supply closet. And then I had dragged her bloody body to the freshman hallway, stuffed it in her old locker, and slammed the door enjoying the hard finality of the cold, metal clang the door made.
Sierra

I had squeezed my eyes shut tight. When I opened them again, and the writing in the yearbook came back into focus, I saw something else. Marissa – 2. The day they had found Marissa's body and started and ended in an odd fashion. A block of cement had appeared on the front steps of the school the day after Marissa had gone missing. Detectives had cracked it open and found the body of Marissa Sincule. Later I had read police reports saying she had been drugged and cemented into the block alive. Police suspected she was murdered by the same killer who had ended Ella Croffeld's life. Everyone broke out into a frenzy of fear once suspicions that we had a serial killer on our hands were released.

Molly

Marissa had always been the one to administer physical pain. Punches, kicks, hits, pinches, those were Marissa's forte. I had taken Marissa as she was walking home one night, after basketball practice. She struggled as the chloroform started to take effect. Then she went limp. I hit her, just for the satisfaction of finally being able to after all these years. I knew they were doing construction work on the school, so I dragged her rag doll body over there and lay her in one of the wooden cement frames, but not before I had put a layer of cement on the bottom. Then, feeling quite malicious, I opened her mouth and eyes before dumping a bag of dry cement powder over her. Then I turned the hose on, and solidified the concrete, ending Marissa Sincule's life.

Sierra

Danielle – 3. This time, the finding of the body hadn't been impersonal. For the person who found Danielle Madestra's corpse was none other than her boyfriend. Danielle had been the cliché stereotype of a popular girl. She was the captain of the cheerleading squad, and dating the varsity quarterback. The killer had known this. Danielle's body was found stuffed into his football jersey, which had been hanging up in the locker room at the time. Danielle's head was not attached to her body – it was in Jeff's helmet.

Molly

I remembered what I did to Danielle very clearly. I remembered catching her in the locker room shower after all of the other girls had gone home. I remembered describing to her in detail exactly what I was going to do to her, and then doing it. I remembered just how hard it had been to cut through her neck. I remembered leaving the shower on so her blood washed down the drain. I remembered the easy way her naked body slipped down the hall to the boy's locker room. I remembered shoving her into the pads and football jersey, stuffing her head into the helmet. I remembered just how heavy she was when I tried to hang her up. I remembered it all.



Sierra

My stomach lurched as I thought of Danielle. Jeff had screamed, calling me to the locker room when he had discovered her body. The first thing I had seen was the slow drip of the blood from his helmet as it hit the floor one drop at a time. Then I saw the bloodstained jersey. Jeff slid her body out, collapsed onto the floor, and cried. No one could talk to him for weeks.

I put my head in my hands and stared down. Alison – 4. The Drama Club had found Alison while they were rehearsing the play Arsenic and Old Lace. She was hung from the lights in the theatre right above center stage, which is where she always loved to be.



Molly

Alison Terahertz's murder was not the most fun, nor the most creative of the six. She was a drama buff, the star of every show, the best singer, dancer, and actress in the school. She loved to be in the spotlight, and I knew that's how she'd want to be remembered. Alison also did techie work. She was up in the scaffolding, working on the lights when I snuck up behind her, wrapping and tying the cable from the lights around her delicate neck. She seemed to know what was happening, and she fought me. But she wasn't strong enough, and she ended up dead, hanging from the lights, above center stage, with the spotlight on her.

Sierra

I lifted my tear-stained face and pushed a strand of hair aside. Jessica – 5. Jessica's body was found displayed in the most gruesome of ways, and served as a reminder of just how smart she had been. Her dismembered limbs, torso, and head had been nailed to the whiteboard as if on display. When Mr. Horowitz flipped the whiteboard over in his AP Calculus class, her mutilated corpse was revealed, along with a grisly surprise. Jessica's brain matter, the envy of all of the smarty-pants in the school, was drip-drip-dripping onto the carpet.



Molly

Ah, Jessica. Jessica Cambers. Hers was a murder I greatly enjoyed. Grabbing her from the Study Center after school, hacking her body up, sawing through the raw flesh, the sinewy muscle and tendons. I took pleasure in watching her blood pump itself out on the floor. Nailing her to the back of the whiteboard was tough, I must say. Her limbs just did not want to stay. And her head… I ended up having to crack her skull to get it to stay. I could only imagine the reaction of the poor class who had the misfortune of witnessing her unveiling. Needless to say, they were probably still cleaning the vomit from the floor.


Sierra

Remembering all of this was just too much. I gagged and whispered to myself "It's going to be okay." Then I forced my eyes back onto the yearbook. Nicolette – 6. Nicolette had been the star of the soccer team, already being scouted by colleges, the whole bit. Looking at her corpse from a distance, you would not have known that Nicolette was dead. She was propped upright, in her soccer jersey, sitting in the exact spot on the bleachers she always sat during games. The official reports said she had been poisoned with a lethal injection of afghan opium. And now I knew who had injected that dose.

Molly

Nicolette Ryder was the only one who didn't know what was happening as she was murdered. I had come up behind her as she was shooting on an empty goal and stuck the needle in her arm. The syringe that the needle belonged to held a more than fatal dose of afghan opium. She was dead before she even felt the pinch of the needle. I wanted it to be a shock that she was dead. So I lifted her body and dragged her over to the bleachers, propping her up in a sitting position on the bottom bench, where she always sat during games. No one knew she was dead until the game that afternoon.

Sierra

So she had done it. She really had. She had murdered my six best friends. I fell back onto the bed and just let myself sob.

Half an hour later, when my eyes had dried enough that my vision wasn't blurred, I felt myself look down in an almost robotic motion. My eyes went next to Rob's picture – 7. And when I looked one over, to my picture, I saw that it was numbered with an 8. I froze in sheer terror. It was true. It was real. I couldn't hold it, see it, or touch it, but it was more real than anything I had ever known. Molly was coming after me.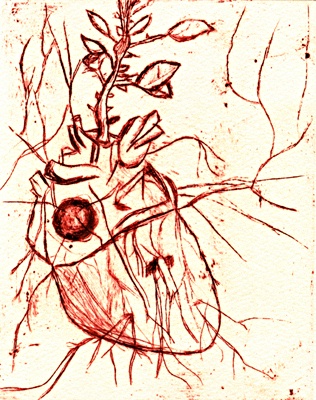 © Elaine S., Phoenix, AZ