God Within
August 14, 2013
ACT I

Scene 1

Mr. Perry Hughes and George King are in an empty classroom. Mr. Perry Hughes, who will now on be reffered to as Hughes, is sitting at his desk. George King, who will now be referred to as KING, is sitting at a classroom desk near his

KING
I've been an atheist for about 3 or so years now.

HUGHES
Why?

KING
Well, it's not because I'm depressed or anything. Not anything like that, but I just don't find it logical- the idea of a God.

HUGHES
What is God?

KING
He is I suppose that force that controls everything. He is Jesus, or Allah, or whatever you want to call him. He is omnipotent and all knowing. That's what I've always thought of God as- the man who knows everything.

HUGHES
Is he a man?

KING
I've always thought of him as a man. I guess he could be a woman

HUGHES
That doesn't matter; man or woman. Do you think God is a human?

KING
Yes, well, I don't believe in God, but I have always seen God as a sentient being.

HUGHES
What if God is not a sentient being?

KING
I've always seen God as the man in the Sky, but I don't believe in God. How is that relevant?

HUGHES
You'll see. What if God is not the man in the sky- not the man with the beard and robe like he is depicted?

KING
Well, I don't know... What do you mean...

HUGHES
What if God is a force?

KING
A force with consciousness?

HUGHES
No, a force that flows through all of us.

KING
That sounds like energy.

HUGHES
Sort of like that, King. Have you ever wondered why humans and animals have so many parallels? Why they think so similarly and so many of our actions are the same, or nearly the same? Why a big successful drama, like Breaking Bad, is pretty much loved by everyone, and things that are really good tend to be very popular? Why you can make a product for the masses?

KING
No. I haven't. I've never really thought about that.

HUGHES
King, what do you want to be when you grow up?

KING
I want to be an artist, probably a writer or actor, maybe both.

HUGHES
Do you want to make great art?

KING
What do you mean by great art?

HUGHES
Art that you enjoy making and art that feels good to make and read. Art that not only you enjoy, but millions of others do too?

KING
Of course. I want my art to be loved. I want to feel love from my art.

HUGHES
Why do you want it?

KING
To be loved, I guess.

HUGHES
Do you want me to teach you how to make art?

KING
I guess, but I mean, I 'd love that, but no offense, you aren't an artist, as far as I know.

HUGHES
I'm a teacher, but I make art everyday. What do you think I'm doing when I get up to a class and speak?

KING
You are a beautiful speaker. How is that art?

HUGHES
It is art because it is an expression of how I feel. Anything that truthfully communicates to a group of people, or a person, how one feels, is art.

KING
So, how do I make great art?

HUGHES
You want to?

KING
Of course

HUGHES
First you must find the common link between us all.

KING
Okay, what is that?

HUGHES
You know how I asked if you ever thought about what makes everything so similar- why one thing can appeal to millions?

KING
Yes, but how is...

HUGHES
King, that is how great art is made.

KING
But what if I disagree with the norm- what if my true feelings are weird?

HUGHES
No such thing as weird. There is only different. If it is true, they will love it. Don't worry about being weird; express yourself.

KING
Well, I never thought about it that way. I always sort of thought that a lot of things that appeal to people on a wide scale are sort of bulls***.

HUGHES
Like what?

KING
Like a politicians speech.

HUGHES
That is manufactured product by a machine. There is no heart or emotion in that. There is no art. You want to make art, right?

KING
Right. How is truth relevant?

HUGHES
You told me one that you like old movies. Do you know the movie the Great Dictator?

KING
Yeah. I mean, I think that's an amazing film, especially the end. That speech is amazing.

HUGHES
It is beautiful, no?

KING
Yeah, I would say so.

HUGHES
Do you wanna know what makes it beautiful?

KING
Yes. Tell me

HUGHES
It's beautiful because it's true.

KING
What- how does that make it beautiful?

HUGHES
It's speaks to all of us, and how do you find something that speaks to all of us? You find the truth.

KING
Alright, okay, so I must find truth. Where do I find it?

HUGHES
That's what is great about art. You must not look anywhere. It will come out of you. It is inside you.

KING
Do I plan to make it?

HUGHES
No, do not plan. Machines make plans and simulations. You are an animal and do you want to seem divine- have a divine stroke in your work?

KING
Yes, I've often that some art seems divine-Godly.

HUGHES
Yes, and to do that you find the voice in yourself. You find that common link between all beings. You find God.

KING
So what is God?

HUGHES
God is the energy between us. It connects and makes us one. You are part of the Earth and the universe and all matter and space. This is God. This whole being- the whole of existence.

KING
And art comes from God?

HUGHES
Yes, when you speak from God, you speak from that energy. God is the energy and the matter. Energy and matter are one the same. An artist, and some could call the artist a prophet, speaks from God. God is that true voice within.

KING
So all I must do is speak?

HUGHES
Yes, speak... write.... Whatever it is you do. Make love. Have sex. These are all art.

KING
Sex. Tell me, Hughes, I don't understand... So much... So much info... I feel it is true.

HUGHES
I know you do. I speak the truth

KING
So you speak from within?

HUGHES
Yes, I use my inner voice. I do not speak in riddles or in rhyme or use a fancy vocabulary. I speak the truth. That is all I do. In this, one could say I am a modern prophet.

KING
Because you are tapping into that energy that connects us all?

HUGHES
Yes. Call it spiritual electricity. I am the modern prophet. Do you want to make art?

KING
Yes.

HUGHES
Stand up. Come near me

HUGHES grabs GEORGE by his shoulders and holds on to him.

HUGHES
Speak, George. Speak, my friend

KING
Hughes...

HUGHES
Don't call me Hughes. Call me Perry. That is my first name. That is my real name

KING
Perry... I am nervous.

HUGHES
Don't be boy, I am here. I am holding on to you. Feel my energy. Feel it inside you. Feel the electricity and speak

KING
I am George King. I am a boy. I am an artist and I am speaking freely. Is this art?

HUGHES
Do not ask me. Ask yourself

KING
Yes, I feel it. I feel...

HUGHES
What do you feel?

KING
I fee the truth with in. It is like a sun. Like an eternal sun in my heart pouring out. What is inside is coming out. I feel it so strongly

HUGHES
Yes, good. I feel it. Everything has that great and beautiful light inside them. It is hard for humans to reach this light and shine, for they have so much light inside them. What is this light, George?

KING
It is God.

HUGHES
Yes, it is God. It is the God within. Go home. I've got to go now. I must go to my home; to my wife and my kids. I must love them. You love your family and anyone around you; friends, girlfriend, whoever. Love them your whole life. Be kind and speak and feel. Let your conscious and subconscious merge when you act so that you can simply be.

KING
Be

HUGHES
Be, yes. Be the God within, my boy.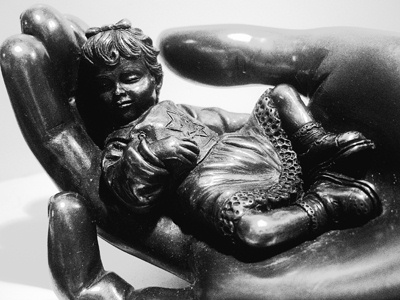 © Dat L., Worcester, MA