Killing O'Cleary
May 4, 2012
Act 1
Scene 1

Lydia
MacKenzie Mary Kelly! Get your gaunt bottom down here, you rubbish child!

[Enter MacKenzie Kelly]

MacKenzie
Yes, Miss O'Cleary? How may I help you?

Lydia
Stop stuttering child! Come over here and tell me why my brand new jug is covered in water!

MacKenzie
Aha…Well, you see—

Lydia
Get to it! And lift your head up! Look your elders in the eye when you speak to them, you boorish girl!

MacKenzie
Ma'am, ahh, you had asked me to put water in the jug for some…roses I believe you had said, and…you told me that you would give them to…me…when you got some to put in there. And I couldn't wipe up the water because it could have ruined the vase! And I didn't want you to be mad that the new jug was ruined, and so I just left it to air dry and…and--

Lydia
Look at you going all red in the face! Ha! Ignorant child, do not let it happen again! You hear me? This entire house needs to be perfect at all times. I do not care if I am the only person to see it; I want to be able to have guests over at a moment's notice! Do you understand me, Ms. Kelly?

MacKenzie
Yes, Miss O'Cleary. It won't happen again!

Lydia
And speak properly! I will not have any of that "contraction" nonsense! Now out!


MacKenzie
Of course, madam. It will not happen again.

[Exit Lydia O'Cleary]

Ugh. Back to cleaning! Mop the floors! Vacuum the halls! Do my laundry! This woman is insufferable! Every time I try to be nice, or obedient, she only ever finds the bad in what I—and the rest of the staff—do! We're only human after all. Maybe I should stop trying to be nice. Maybe I should do something drastic…

[Enter Benjamin O'Riley, Kelly Fitzgerald, Aoife MacMillan, Declan MacMillan]

Maybe we should do something drastic…Shrink her clothes? Give her rotten milk. Burn her house? Driver her out of town? Kill her?! Kill her…hmm, yes that could do…

Kelly
Mac! What are you doing, just standing around? If Ms. O'Cleary sees you she will have a fit!

Benjamin
Yea, Kelly is right. She has been so on edge lately…it is like she is waiting for us to kill her or something!

[Benjamin laughs, Kelly, Aoife and Declan join. MacKenzie remains serious and stoic]

MacKenzie
Maybe we should.

[Silence]

Aoife
MacKenzie? Are you sure you're feeling okay? You must be delusional or something, honey. You can not seriously be thinking about killing Ms. O'Cleary.

Kelly
Umm, right. It is not like we could pull it off anyways.

Declan
What if we could…?

Kelly
You two are insane!

Benjamin
We could make her fall down those fancy spiral stairs of hers.

Aoife
My god, you are serious, aren't you!

MacKenzie
We would be rid of her forever. No more of her constant scolding. No more cleaning. No one ever comes here anyways, and all of us know the passwords to her bank accounts and all of her emails and what-not. No one would have to know. We could live here in this massive house for the rest of our lives in comfort. It would be wonderful! Can't you just imagine it, living in the lap of luxury for the rest of our natural born lives? We could rewrite her will and leave all of her blood money to us, and in a few years, we could burn down the back shed and leave her body in it. Everyone would think that it was some machine malfunction and we would be in the clear. Come on now, you cowards! No one ever got anywhere in life without a bit of sin here and there. And since when did any of you ever care about heaven or h*ll anyways? I'm the only one who was raised in a strict Catholic household, and here I am, planning the death of our boss. My, it would be fun too! We could do whatever we want to the old bag! Get whatever revenge we want for her being so…distasteful.

Kelly
Listen, Mac. Just because you had a bad childhood doesn't mean that we have to help you make up for those years. Especially not by helping you commit murder. We could all go to jail right now for conspiracy! I can't survive in jail guys!

Declan
Stop your whining. Your father survived, and you could too if it came down to it. But it won't. Because if you or anyone tell the cops, I"ll murder you.

Aoife
Declan! That's just wrong! Mom and Dad would never have liked to hear you speak that way!

Declan
Well we wouldn't know now would we? After all, Dad did kill Mom.

Benjamin
That's enough! All of you! We have all had our fair share of bad experiences, so quit fussing! We are talking about killing a person. Killing our boss! Are we, or are we not going to do this? Mac, it was your idea; is this even going to happen?

MacKenzie
I'll be going ahead with it. I'm tired of her antics.

Declan
I'm in.

Aoife
I don't know…

MacKenzie
She is an evil witch who has been ruining our lives for the past eight years. I don't know about you, but I'm tired of being pushed around by 'her majesty'. I want to be able to use washing machines to do laundry, electric stoves to cook, a hose to water plants. I want to join the 21st Century! She lives in the Dark Ages, and I don't want to. Do you?

Aoife
No…I don't want to. I'll…yeah I'll help.

Kelly
I'm still on the fence about this. But I guess I'll help.

Benjamin
Yep, me too!

MacKenzie
Good. Then how are we going to do this?

Act 1
Scene2

Lydia
Kelly! Kelly, come down here! Where on earth did you put my red gown!

[Enter Kelly, rushed and out of breath]

Kelly
It is in your closet madam. I left it in the red garment bag hanging on the back of your door. Do you need any assistance getting it on?

Lydia
No. Go back to your chores. And tell Benjamin that I want a plate of steak ready for dinner tonight.

[Exit Lydia. Kelly sighs]

Kelly
Okay, come on. She will be getting ready for the next hour. This is the best chance we have to plan something.

[Enter MacKenzie Kelly, Benjamin O'Riley, Aoife MacMillan, and Declan MacMillan]

Aoife
I am still not sure about this…



Benjamin
Aoife, calm down. We will be fine. The old bag does not expect anything at all. Now, what are we going to do?

Declan
Drown her?

MacKenzie
Burn her?

Kelly
Can we do it cleanly, please? Let us just poison her food.

Benjamin
We could push her down the stairs!

MacKenzie
These are all too easy! We need something unexpected. Something fun. Skin her alive?

Aoife
And how would we manage that? Hmm? It is totally impractical! Let us keep this simple and easy.

Declan
But that is no fun!

MacKenzie
I agree,with both of you. If we really want to pull this off, then it has to be clean and quick, no matter how much I want it to be fun and dirty.

Benjamin
Well if that is how we want things to go, then I have to agree with Kelly. If we poison her it will be quick and clean.

Declan
I know just the thing.

Kelly
Which is…?

Declan
Methadone.

Benjamin
And where can we get some?

Declan
In the tool shed out back.

Act 1
Scene 3

Aoife
Your steak, Madam.

Lydia
Good. You are excused, Aoife.

[Aoife moves back to a line-up of Mackenzie, Declan, Kelly, and Benjamin to watch Ms. O'Cleary eat]

Benjamin
[Aside to Declan] Did you put the methadone in the steak?

Declan
Of course.

Benjamin
Perfect.

[Ms. O'Cleary eats steak, chokes, and dies. Servants cheer.]

MacKenzie
We've done it! We've done it! It's over!

Kelly
I can't believe it really worked!

Declan
We could do anything…

Benjamin
FREEDOM!

Aoife
I think I'm going to be sick!

Kelly
What do we do now?



MacKenzie
Now, dear Kelly, we do whatever we want. Benjamin! I think this calls for some celebratory dining! Wouldn't you agree?

Benjamin
I absolutely would, Mac! Everyone, to the kitchen!

Act1
Scene4

[See Benjamin cooking, all gathered around island watching Benjamin cook. MacKenzie is agitated, tapping fingers on counter, looking around at everyone accusingly, tapping foot, etc.]

MacKenzie
What did you just add to that, Ben?!

Benjamin
Salt, Mac…

MacKenzie
N-no…no, that was left over methadone! Wasn't it?! Wasn't it, Ben?!

Kelly
Mac, he didn't add any poison to the food. Calm down, honey. You're just all riled up from the kill.

MacKenzie
No! No, d-don't touch me! You're trying to kill me too! Aren't you?!

Kelly
What?! No! Mac, I would never!

MacKenzie
You would! You put on this…this sweet, innocent act. This sweet, innocent act to hide what a horrible, insane person you really are! Get away from me!

Declan
[Restraining a thrashing MacKenzie] Calm down! You're just having an anxiety attack! No one is trying to kill you!

Aoife
Mac, he's right! You're perfectly safe here! None of us would ever try to hurt you, right?

[Chorus of agreements]


MacKenzie
R-really?

Benjamin
Yes, Mac.

MacKenzie
[Deep breath] Okay. I, I think I'm okay now.

Declan
Good. Come on then, let's all go to bed. It's been a stressful and exciting night.

MacKenzie
You go ahead. I'll clean this up first. Good night!

[Exit Declan, Kelly, Aoife, and Benjamin]

Oh, God. They're all conspiring against me. I'd bet ten to one, they're going to try and kill me while I sleep. Oh-Oh-Oh, no. That, this can't happen! I'll have to kill the-em first! Yes, that's the only way. Yes, yes, yes it is!

[Grabs butcher knife]

Act 1
Scene 5

Father
May the Lord be in our heart to help you make a good confession.

MacKenzie
Bless me, Father, for I have sinned. It has been about eight years since my last Confession. These are my sins.

Father
Go ahead, child. Tell me what you have done. It has been a long time since you were the innocent orphan baby living here. Speak to your old Father.

MacKenzie
Oh, I can't tell you father! It's too horrible…

Father
The Lord will forgive all those seeking forgiveness.

Mackenzie
I could never tell you the things that go through my head, Father. They are scary, dark thoughts that are slowly draining my soul of all light and goodness. They are going to take over my mind soon, and I will no longer be myself. I will be some evil creature that seeks out sin, and wrong-doing. The thoughts…they want blood, the blood of anything that displeases them. Father! They are becoming harder and harder to control! And the less control I retain the more I sin! Forgive me, Father, for I have sinned. I could never tell you the horrors of what I have done. In the past they were just the thoughts of an abandoned, discarded child. Never could I have dreamed that I would or could ever act out those dark thoughts. But I enjoy it, Father. Oh, how I enjoy the warm, thick red liquid as it drains onto my hands and coats my body in its loving warmth! They called me crazy before I did it. Insane. Can you believe that?! Me?! It's ludicrous! Me? Insane?! When they are the ones who can't understand why it is the feel of their life in my hands is so exhilarating! It is them that are insane! THEM, not me! Perhaps Mommy would want me now. Now that I can do something. Now that I can understand why it is that she enjoyed hurting me so. Why she did it. Father, would Mommy be happy with me, now? Would she want me?!

Father
I…MacKenzie…I don't think she would. I don't think anyone would dear.

MacKenzie
…What? That doesn't make any sense. I am who I am now so that people would want me!

Father
You are too far gone, my dear. Too far gone.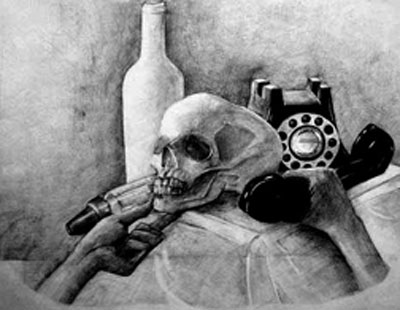 © Xiao H., Naperville, IL