Bears, Wolves, and Dragons
November 9, 2017
Ten years before, Dashuri Jetë was a small boy looking through his telescope. He gazed at the stars freely. His imagination bursted out of his heart, hopefully and anxiously picturing all those other worlds out there, wishing he could go to them.

He usually looked through the telescope with his right eye, but tonight he peered with his left, for his right was bloody and swollen. His knees were scraped, and his soul, desolate.

His mother quietly pushed the slightly-creaking door open.

"Hey, Mommy," the young boy said.

"Hey," she replied, "I'm sorry I was late to pick you up today, honey."

"It's okay…"

"It's not okay. Look at what those boys did to you."

"They woulda' done it, anyway…" Dashuri spoke quietly as he kept looking at the stars.

The pale blue-and-yellow painted walls of his room were covered with various decorations, ranging from posters of musicians to celestial charts. Toys, games, and papers used for writing stories layered the tan carpet. The fan spun quietly and slowly as if it was peacefully dying. His two bookshelves were filled with comics, children's puzzle books, and innocent literature such as The Magic Tree House, Geronimo Stilton, and Reddy Freddy.

"Why were you late, Mommy?"

"I had an important meeting with my publisher, sweetie."

"Pub-lish-er?"

"I'll explain it to you when you're older…"

Dashuri turned back to his telescope and focused in on a bigger, brighter star.

"Hey, what's that star?"

"Which one, Dash?" His mother walked over and took his place behind the telescope.

"That one." He pointed at it.

"Hm, it's probably Venus."

"Can humans go there?"

"Not yet, but maybe someday…. Perhaps, you could be the first."

"I want to do that." Dashuri again looked through as his mother moved out of the way. "I want to go to a star, and stay there forever."

"Why?"

"I don't like this world. It's mean."

"Well, there's nothing we can do about that."

"But I want to leave it."

"With hard work, you can do that, baby."

"Really?"

"With hard work and faith, you can do anything… Except convince your mother to let you stay up past your bedtime."

"But Mom…"

"It's a school night, Dash."

"Can you at least read me a story?"

"Of course I will."

Dashuri's mother pulled his blue, Buzz Lightyear comforter and sheets over him, and read to him The Monster at the End of this Book. Dashuri always laughed when she read it to him. Her delivery was perfect.
"Goodnight, Dashuri," his mother said once she put the book away and stood at the door frame.
"Goodnight, Mommy."

He fell asleep quickly, dreaming about all the worlds our universe holds.

He didn't know that ten years later, his life would be completely altered, and his destiny would be forever changed.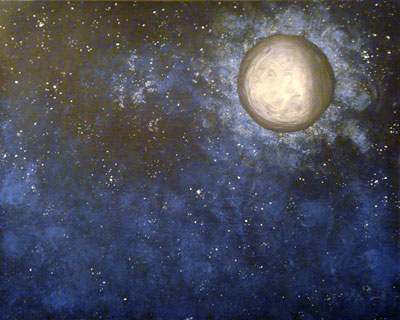 © Allison H., Vancouver, WA