The Time Traveler
MAG
March 17, 2014
She drove through the night, relying on a five-dollar bill and the generosity of strangers. Harland slept, stirring occasionally. When the sun finally rose, Jamie and Harland were in Maine. She stopped outside the town of Augusta to eat an apple and a cold, greasy, and thoroughly unappetizing piece of pie.
<div align="center">• • •</div>
Jamie had never wanted to be one of the elite few who hurtled back through space and time. She was an illegal immigrant, smuggled from Italy when she was a baby. Her father knew little English but managed to get a job at KFC. Her family was very poor, but Jamie loved school and was placed in the gifted classes. She went to MIT on a full ride, got citizenship, and was recruited for the Time Travel Program. Everything was exploratory, of course; ACME didn't want to mess things up in the present. So Jamie had been tasked with going back to New York in 1999, to collect work about the culture. But hours before her time jump, her 55-year-old father had a heart attack and died. The doctors said it was probably all the fast food he had eaten, which was all they could afford. So Jamie changed her mission: to go back to the 1920s and stop KFC, thereby stopping her father's premature death.
<div align="center">• • •</div>
As the sun rose higher, he started to stir, and Jamie poured more water into his parched mouth. She started the car and drove into town, where she knew she would find a shoe factory on the corner. She adjusted the stupid red dress she was wearing and stepped into the factory. Jamie knocked on the boss's door.
"Come in," a musical voice said. As she stepped into the well-decorated office, her eyes rested on the man behind the desk. His hair was chocolate brown; his blue eyes sparkled with mystery and humor. He had no wedding ring, was dressed fashionably, wore a half smile, and was looking right at Jamie.
They stared at each other for a few seconds before the mystery man stood and said, "Hello. My name is Walter McClaren. And you are?"
"Isabella," Jamie lied. "Listen," she said, in well-rehearsed tones, "my friend lost his job and had … well … an episode. Do you have any openings?"
"Yes," Walter replied, "we do. Room and board is included, so you don't have to worry."
"Thank you," said Jamie. She walked outside and got back into the Model T. She put a hand on Harland's shoulder and shook him awake.
It was all done now. She had explained to Harland how the manager had fired him, how he'd had an episode, and how she knew a place in Maine that had openings. She had walked him to his new boarding house, pressed forty dollars into his hand, and wished him luck.
Just as Jamie felt the pull of the vortex, she glanced out the window of the portal and saw Harland stepping onto a train. She cursed herself for giving him money and slammed the door panel desperately. It would not open.
Jamie suddenly threw up all over the carpet. She so much regretted eating that pie, but she was anxious to find out if her efforts had worked. She burst through the decontamination door, past protesting scientists, and out into the blinding sunshine of the present. It was bright, but not as bright as her face when she realized what a fool she must look like, dressed in an old-fashioned red dress in middle of summer, holding a white flower.
The only thing she cared about was getting to Ash and 110th Street, where her father had worked for thirty years. As Jamie skidded to a halt, she saw the unspeakable, the KFC, standing there. It was her fault, she had given Harland that money, and she shouldn't have.
Jamie ran for blocks, knocking pedestrians out of her way, making men in suits dodge as they went to work, running until she got to the cemetery. Her father's grave was still there, the cold marble still shining, the white beauties still in a wreath around his grave. She fell to her knees, hoping, wishing, praying that it was a mistake. That all of her efforts had not been in vain. But they had been.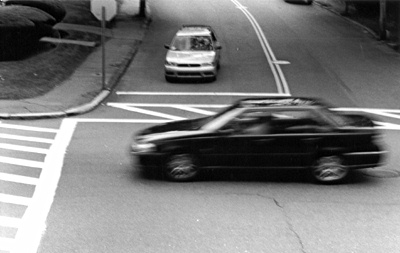 © Ed J., Marblehead, MA