Rainbow
January 1, 2014
In torrents, a sheet thick and cold like ice, it comes down. Desperation, pain of the highest degree times ten and then a few drops more, mere droplets in an oceans' worth of waters. Deafening din that casts out all other realities so that loneliness is all you know.

Nothing but the rising flood is your home, spattered in sticky mud uncleansable and wouldn't it be easiest to simply stop struggling to stay up as you trudge along? Why bother bothering when boredom and despair have claimed you for their designs?

Yet a promise is the light in the lightless place you reside, a promise made once to be kept always. A promise streaking across the grey sky in contradiction to your reality, bolding declaring what is truly real. Faint from some angles but persistent, prisms joined to one form. For even the faintest moment, hope is rekindled within the carcass of my fragmented heart and my feet are given new strength.

Swimming slowly but surely, so that the race may be won, trusting against logic that the promise remains strong, onward I go. Sunlight, mere ghostly tendrils, glow on one side and the bitter blows continue down on the other, paradoxical in a twisted way. Through deep waters dark, though the end may only be a dream, with faith in the shore of tales told so many times before. New air recycled and received, so there may be no cause to stop this journey I did not choose to start.

And somehow, I see myself from the shore, swimming weakly, and I remember the fear I felt, when I was a child. Yet I have grown greater in experience now and I see that a rainbow simply cannot be born without the floods of pain. So it was and is well, and from the highest mountain, hands reaching out freely, I say it is so; a living picture of redemption.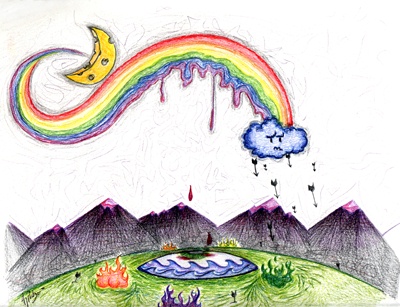 © Alexa P., Ridgeway, PA