Absorbed
February 14, 2013
My feet feel it coming before my ears do.

Slow vibrations at first, as if maybe I am the one shaking, not the ground. But as the vibrations quicken, like a flute coming out of tune, I know the truth. The air hums with an unspoken unanimous fear. We all stand frozen like dolls for a moment, dumbly awaiting our fate.
Move! Get out! Hide!

My sensible half screams to the part of me that is paralyzed. So frightened I can't even feel my fear.

The cars are all stopped in the streets. A light changes at an intersection, a reminder of the way it was because surely after today life won't be the same. No one heeds the light. A baby wails but his mother seems to not notice. Dogs in the distance howl at the sky. The sense it too. Some people are running. Running every which way, probably to a house or shelter. Like a roof would somehow protect them. A woman near me has dropped to her knees and is crying prayers into the ground, her voice a babble of urgent words. I can't think of anything else to do so I stand there, head whipping back and forth, a confused frenzied expression on my face. Shock I suppose. Screams cut through the air punctuated by hurried whispers. All eyes are glues to the sky. The air is electrified with desperation.

We were warned too. That what makes us all feel so stupid. A childish pang in my gut is just angry that I was wrong. There had been so many predictions in the last couple of years only the fiercely religious had believed the warning of yet another crackpot minister enough to make shelters or preparations. And I, a humorously devout atheist, was not among this crowd. The rest of my southern family used to be the type too. But that was before the "great prediction" last September. My poor farming family spent every penny they owned trying to appreciate the "wonders of life" before they died. When midnight had passed that night even I was relieved, so fooled I was by the media. They, however, were devastated.

That same sensible part that studies equations and neuroscience and can't believe in anything unless there is physical evidence is trying to rationalize these events as well. Earthquakes aren't that uncommon in California anyway. The fact that that it was the exact time the minister had predicted could be a coincidence.

But just as soon as I've convinced myself that's all this is the first one arrives.

Silently I see it form. A small dark dot that expands quickly. No one else seems to notice it; they are all looking for a black hole in the sky to "swallow mankind". A small girl sits nearby, seemingly, unaware of the panic that ensues around her. Her clothes adorned with Hello Kitty. Her braids undone. Her face smiling as she watches it suck up ants like a vacuum cleaner. Her mother and father are nowhere to be found. I see the idea gleam in her round blue-brown eyes as her chubby little hand reaches forward.
No!

But I find myself unable to speak, the words lodged deeply in my throat, suffocating me.

Her small finger crept closer, a slave to her curiosity.

I snap out of it and run. My heart pounding with my feet.

I grab for her Mary Jane-clad foot but I am too late. Before my hand connects she is sucked down below. A high pitched cry echoes.
The hole widens as I back slowly into a wall, hands raised in front of me to protect myself or silently say it's not my fault I can't tell.
Maybe raised to surrender.
Then as soon as the hole appeared it's gone. I have never fainted before, I'm a doctor for heaven sake and I am not really the delicate type.

But that day my head, with all its trusted scientific principles, smacked against the concrete

That was the first time I saw someone be absorbed. I will never forget it no matter how hard I try.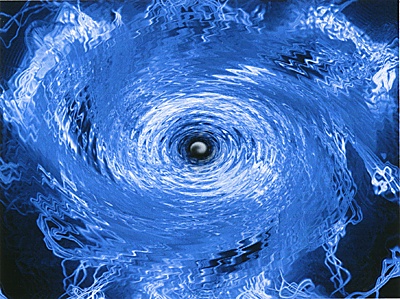 © Alex D., Phoenix, AZ