A Barren World
June 12, 2011
A cold stone palace sat alone in a barren and icy world. Dust permeated every nook and cranny, clothing the remnants of a lost age.

Bright silks had faded. The glass chandeliers lay in ruins upon the floor. Intricately illuminated books cracked and disintegrated. There was nobody to put food on the beautiful porcelain nor fill the goblets with sweet wine.

Only one life remained in this empty place, though I use a loose definition of "life". He sits upon his grubby throne, shouting to his long deceased servants. A tarnished crown sat atop his filthy head, and the halls echoed with mad laughter.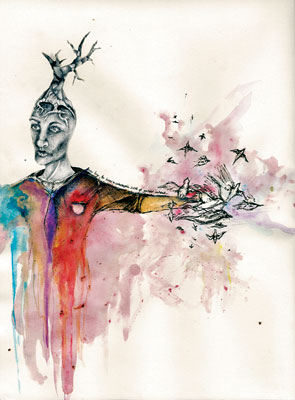 © Alice B., Sarasota, FL