The Story of Stella
August 25, 2010
I'm sure very many of you who are reading this right now have read many stories beginning with people discovering new worlds. Sometimes behind doors, others within vortexes. This is one of those stories. A story of a young girl named Stella, who in fact, finds herself trapped in a world she was always meant to be in. Of coarse, it starts out very simple, but very boring. All you need to know is that Stella was born to a mother who could not take care of her. Her dad never wanted a child and left her mother as soon as he found out she was pregnant with Stella. Stella, therefore, lived with her older cousins, who took her in with open arms. Nick, Stella's cousin who was twenty three at the time, and his younger sister who was twenty six, raised her as thier little sister. Their very little sister. And now, this story begins with Stella walking home from school. Things were very well indeed, modern. Cars whizzed by, T.V's were on in most houses, and most importantly, Stella was a thirteen year-old who ws walking home from school. The sun was very bright, and her blonde hair stuck to her sweaty forehead. Her light blue eyes were squinting, and her feet walked against the pavement in a somewhat rythmitic fashion. Suddenly, a she heard footsteps behind her. Stella glanced back to see a girl about her age walking behind her. She had black hair curled in braids that clung to the crown of her head. She had pretty skin, Stella briefly noticed and she looked dreadfully hot in her skinny jeans. Stella thought nothing of it, continuing to walk home. She had math homework to get to, and it was no time to wonder about a stranger. The girl's pace noticeably quickened and before Stella even knew it, the girl was walking right next to her. Stella's brows slightly raised, but she said nothing. Abruptly, she was aware of something that felt like a Sharpie marker jabbing her side. Stella screamed as she fell on the grass below, scared. The thing was, she didn't land on grass. She landed on damp earth, and in a blink, it wasn't sunny anymore. Actually it was night time, a bright crescent moon illuminating the field she was in. Stella quickly got up, her heart madly pumping through her veins. She scanned the field, a slight breeze feeling nice on her sweaty skin. As sudden as the push on the ground, an ovwhelming sensation of torture overcame Stella's body. She crumpled to the ground, shrieking in agony.
"Where is it, Stella?" A cruel voice hissed. Stella looked up, and through her tears, she saw the girl who was walking behind her moments ago. Her eyes were a strange brilliant orange, burning. Stella wailed, her hands clutching her torso.
"I-don't-know." Stella gasped, finding it extremely difficult to breathe. The girl scowled repulsively down on Stella.
"Don't lie to me!" She demanded mercilessly. Stella felt as if she was being ripped apart. She didn't know who or what she was. All she knew was pain, and the girl's cold sharp voice.
"I don't know!" she wailed in pain, sobbing. The girl looked away in disgust, fully resenting the weak creature writhering below her. For this girl, was not very nice. She wasn't evil, though. Just very frustrated. Her name was Latalia. This girl, or whatever she was, had something very important to her. Obviously, Stella, didn't know what what Latalia wanted, but Latalia didn't know that. She needed those marbles. And fast. Stella feebly whimpered, still panting for air. what was going on? and this, is where our story begins. The story of Stella.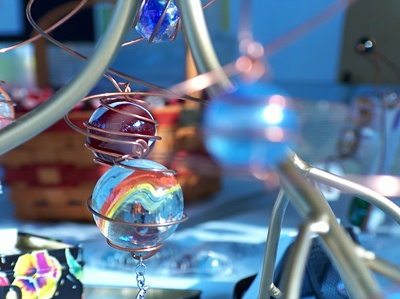 © Sean C., Princeton, IL