Dream Warrior
April 20, 2010
Up the wrought iron staircase, past the security and protection of my home, into my, bedroom, and under my bed is where it hides. Masked by the shadows of the night, this hideous creature that feeds off of the darkness, it whispers into my ears, and exhales the Devil's breath into my soul. It screams at midnight, and it swarms my room like a lung collapsing smoke cloud. I never sleep, I just listen. I never close my eyes, I just pray. I am not afraid to die; only petrified to live.
The night finally came that I decided I would depart from my bed. It was a chilly December evening, and my family had gone to sleep. Isolated, and paralyzed, I mentally prepared myself for the escape. Tonight, I would sleep. Tonight, I would close my eyes, and I would laugh at the atrocious beast that involuntarily subsisted beneath my bed.
The moonlight danced upon my cherry wood floor, and betrayed me as it signaled the monstrosity. I couldn't have cried if I'd wanted to. The fear had only built up the anger that lived within me. Slowly, I slid one foot out of my bed. I laid it on the glacial planks, and the creature's high pitched cackle temporarily froze me.
I had nothing to fear but my own imagination. My mind was more so capable of configuring a hellish nightmare than actual reality could ever compose. This monster, this thing, that lived to torment me, was far less frightening than the instances that my own mind could conjure. Whatever was there, waiting to electrify me, to stimulate my fear, this thing had no idea of my power. My mind. My creative and imaginative mind, in which I could destroy evil, yet fabricate a world in which things were much better than in actuality.
With both feet on the ground, I kneeled to the floor, and slowly lay my head on the floor. For a moment, I closed my eyes. But only for a moment. I quickly turned my head, and peered underneath of my bed.
The eyes that met me were pure evil. This I know I will never forget. I stared back into the piercing red eyes of the beast, and I closed my own. This creature was a mistake of nature, a fairytale animal. I could destroy it with my mind. I could send this evil entity back to where it belonged, with my thoughts, and my brain, and my heart. But I had to keep my head focused on the task at hand. This was a figment of my imagination, a challenge that no other person could take on.
As if the beast had never existed, it disappeared. The moonlight evaporated, and the darkness subsided. I woke to a blinding ray of sun, and smiled. A dream? I wouldn't dare say. Another night I had survived, and a day closer I had come to what waited for me once the sun had descended, and the moon had begun it's dance. My ears hear the music, my eyes see kaleidoscope vision, and my spirit belongs to the dreamland. For I am a dream warrior, a defender of Heaven, and Earth, and in my dreams I harbor a life that I will never own.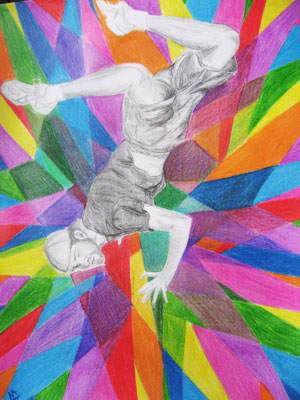 © Carollynn G., Hawthorne, NY