Metamorphosis
February 10, 2010
Felicity turned coldly away from the park and the boy that broke her fragile heart. Her vision grew blurry as she realized she was crying and she pulled to the side of the road. All her life she had dreamed of what every other girl dreamed of when they were five and six years old. She even dreamed of being sixteen, but if she had known how horrible things could be at this age, at this time, she would have never dreamed of it. Her tears now turned to sobs as a plethora of wetness rolled down her cheek and onto her favorite shirt. Well, it was her favorite shirt...it was his favorite shirt. Felicity thought about how many times she had wanted to share her secret with him; it was after every "I love you" and every sweet kiss underneath the shade of her evergreen, their evergreen tree in her backyard. She always bit at her tongue and kept the words from forming on her lips. Holding all her magic inside of her was harder than it had ever been in her entire life. How meaningless "that word" was to her now. Like it was something he could just spit at a girl and then they wouldn't fight and there would be no tears for him to clean up afterwards. It was the easy way out that he took quite frequently. She just couldn't believe how long it had taken her to figure it out. She knew what she had to do.

Andrew pivoted in the opposite direction to avoid her tears. "I hate tears..." he thought to himself as he flipped his dark blonde hair out of his eyes for the thousandth time. He thought it had gone over pretty well. He watched her pull out of Amory Park's parking lot in her PT Cruiser convertible that he had pitched in to help pay for. He had only pitched in about two hundred dollars; wasted on nothing now. She use to mean something to him, but now, as he walked past the swing set and the little pond next to the benches and picnic tables he visited with many pretty ones, she was nothing to him. "Like trash on the road", he thought as he kicked an old coke-zero bottle.

Felicity made a three-point turn and made her way back to Amory. The magic inside her would not back down. It built up inside her and she tried with all of her might to keep it down. At one time, she just let the magic take over, it wrapped around her like a new born baby's blanket and soon enough, she didn't try to stop it any longer...

Andrew looked around him as he heard the sound of a motor running towards him. He turned around in the direction he had just came from, but nothing was in sight; no motor running after him. "Just hearing things..." he convinced himself.

Felicity pulled alongside to the curb. Her black Cruiser camouflaged by the brush and leaves at the side of the road. And then with a wink of her eye, the rain started to fall. All it took was the right twitch of her finger at the right time. She let the magic inside of her linger there at the tip of her fingers, watching it sparkle and come alive. "So long, Andrew Booth", She said to herself and suddenly, he disappeared. Felicity looked up at the dark, gray clouds and smiled at herself. She turned her windshield wipers on high smacking at the rain on her window just as she had intended them to do. "Whatever drop of rain you are, I hope you think next time you cheat." She thought as she pulled away from the curb. She found herself laughing because, well, rain could not possibly have a brain. This is why it fit him PERFECTLY.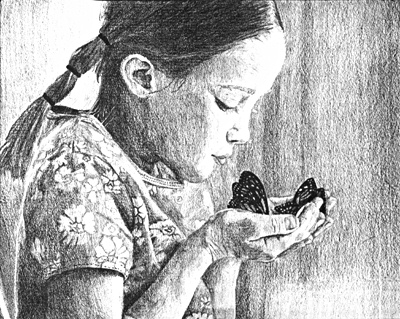 © Alina L., Holland Patent, NY