The Forgotten Tail of Distruction (Part One)
February 17, 2010
It was during the dark times. The land was covered in an evil that no man could conquer. The one god, mightiest of them all was Chaos or Set. He was the most powerful of all the gods over the lands' and beyond this world. He had no interest in the other gods but had his eye on the small planet known as Lephest. And it was here that our adventure begins. Set descended upon this sphere of jungle and water and chose the purest maiden, Anthousa, to start this tale by growing, for him, a child unlike anything in the world.

Anthousa was the queen to a great king who ruled over the land of Zenthus. He was getting elderly when Bael was born, Set's son. This king was planning to give his kingdom to Bael, thinking that the eldest son, Demetri, was too heartless and greedy. When this was announced, Demetri was angered and killed his father, claiming the kingdom and land, vowing that no one could stop him.
Anthousa ran in fear, fleeing the land to a place of refuge and safety. She hid with Bael on a neighboring island called Azmerath. But as soon as they arrived, Anthousa died from an unknown sickness, leaving Bael alone on the island with no help. Set had foreseen this and sent down the great and wise Nylarthotep to watch over the child until he grew.

It was many years later before Bael had become a man and was ready to reclaim what was rightfully his. With the few belongings he had gotten from Nylarthotep, he set out on the ship, Morte Su Nero Ala, and was soon back in the dark and brooding lands of Zenthus. This land was dark and contained many strange and dangerous creatures, but none had seen the likes of his kind before.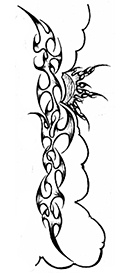 © Alex E., Dededo, Guam