Deadly Trust
February 6, 2010
It was a sort of nirvana, the sound. With it, every other minute universal noise melted away, leaving a vast empty void of space and time to be overtaken by this song, so powerful, so striking. Intoxicated on its seductive nature, the man took measured steps he couldn't control, and he knew he didn't want to.
The damp brick buildings of his high school loomed in the distance and grew in his vision until he was walking through their brown, trophy-lined halls. His ears drowned in the song, which began overflowing in his mind; he could focus on nothing else. Drifting through his high school on drunken feet, the man passed by the old gym. He saw himself, a little younger and sporting a slightly shaggier haircut, standing in the corner, making out with his old girlfriend Jenny during basketball practice. Still sweaty and wearing his white and green jersey, he was running his fingers through her hair, soft and sweet from her coconut shampoo. She stood on the toes of her white Keds to reach his lips as he bent over her, one hand gently resting on the wall of the gym.
Every pore of the man's body still overcome by the song, he staggered onward, passing the art room where he had drawn Jenny's beautiful face in charcoal for the first time, shading every detail just so. Nothing he could do would ever make it perfect; it was never stunning enough to do her justice. He passed the English class where he had written his first love letter to her, the bench near the football field where they had kissed in the rain, and the music room where he had first fulfilled his promise to play her a song on the piano. His own body was present in each of these places, maybe a little younger with a little more life in his face, but definitely him, as real as anything. Jenny was always there, always hovering over him or kissing his or saying thank you or smiling the way she always did.
Reaching the inner quad where football rallies were held whenever the weather permitted, the stone hallways and glass display cases gave way to something much more heavenly. Through a cloud of snow-white mist, a meadow of lush golden grass and delicate wildflowers grew before the man. Stepping into its warm, iridescent glow, his breath left him as his eye caught something new. Standing in the middle was the source of the ethereal song that seemed to taunt him. Jenny, every curve of her smooth body bathed in warm light, stood before him, one long leg slightly bent, and her head tilted to one side. Cascades of chocolate brown hair spilled over the small frame of her shoulders, and her rose lips were parted in song. The cream color of her skin and the baby-blue blaze of her eyes drew the man in with an undeniable force. A smile played across her pale face as her body, bare and beautiful, filled his vision. When he was close enough to be able to feel the heat of her body, the man became acutely aware that something was wrong. Unable to sense any danger as Jenny's eyes grew pale and eerie, piecing his soul, and her teeth grew sharper and began to drip out of her thirst, the man reached out to touch her, ready to surrender himself to her. What he didn't realize was that everything was beautiful because he was doomed. The last thing he was aware of before he blacked out and fell into pools of his own blood was Jenny lunging furiously at him, tearing at his heart. He hadn't even tried to run.
The night was crisp and quiet when the man jerked awake in a cold sweat, back in his bed, safe from his nightmares. A light breeze played with the flow-y white fabric of the curtains, and pools of glowing moonlight spilled onto the quilt. The man looked down to find his arm curled around a woman, still sleeping soundly. Jenny's chocolate brown hair rose and fell over her shoulder with her steady breaths, and the man had no problem going back to sleep knowing that his true love was resting peacefully. He needed only to remind himself that it was simply a dream.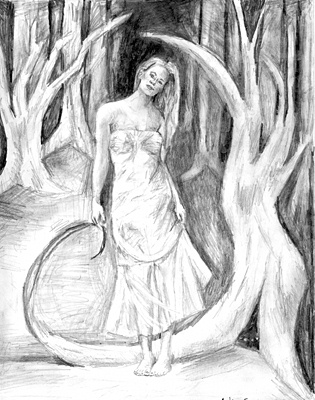 © Andrea F., Philadelphia, PA