Once Upon a Parody: Cinderella
December 4, 2009
Okay, so once there was this chick called Cinderella, and she couldn't play soccer worth squat. She was always falling down and hurting her knees, and frankly her stepmother and stepsisters were tired of it. But they constantly coached her, and she often came home with bruises because of her many falls.

So this one time, this really famous soccer player holds a ball, and everyone comes to it. But really, it wasn't exciting, all he was holding was some scuffed-up soccer ball, that was all torn up.

Anyway, Cinderella went in her brand new soccer cleats. As soon as the prince saw her, he knew that she would be a great player on his team. She thought he was pretty ugly. So she ran away, and off came one of her new cleats. And, on the way home, her foot got pretty scratched and swollen.

So the soccer player came around and had everyone try on the cleat (you'd think he could just tell that it wasn't her by how she looked, but nooo). But when he got to Cinderella's house, she couldn't wear it because her foot was too swollen. But her stepsisters all could and they went with him and joined his team; they beat the Blue Dragons that year at the big soccer tournament.

Moral of the story: Run away from ugly guys, but wear good shoes or he might steal one that falls off your foot.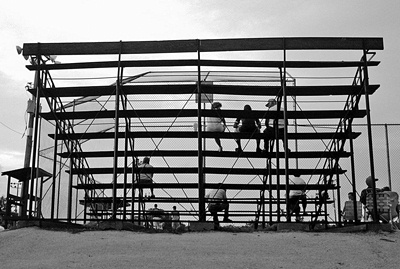 © Katie C., El Dorado Springs, MO