Azura's Life (Part Two)
October 25, 2009
"What do you suppose the test is?" asked Jeanne.

"I don't know," answered Azura, "I think it might test our Gifts, maybe what they are and – " Azura could say no more, because, at that very moment, she was dragged into the testing room.


In the testing room, a woman with a huge, obviously fake, smile met Azura. "Hello little girl! We're here to do a test on you. See if we have to put you in an advanced class."

"Um… okay," said Azura, "What do you want me to do?"

"Well, for starters, you can tell me your name."

"Azura."

"All right then, Azura, let's get you started on the first test. We'd like you to find this." By this, the woman meant a marble. She held up a picture of the marble. In seconds, Azura was able to find said marble.

"Okay. Gift of seeking." Said the woman aloud while she wrote it down. "That will be all. Please go out through that door over there." The woman gestured to a door that Azura hadn't noticed earlier. Magic? She thought, No. It can't be.



Azura went through the 'magical' door, and into a dormitory full of giggling girls. A couple dozen girls noticed Azura's arrival, and all set out to introduce themselves to her.


"Hi! I'm Lisa!" exclaimed the first, obviously happy to see a newcomer. The rest followed her example.

"Katherine!"

"Athene!"

"Nice to meet you; I'm Bess!"

And so followed the rest of them. Only when the introductions were finished, someone asked Azura what her name was. "My name's Azura." She said, and readied herself for a wave of questions. It was a wave of compliments, too. Everyone wished they had a name like Azura. Azura just wished that they would shut up!


Mere seconds after she made her wish, Azura saw Jeanne come through the same door she had. Lisa, Katherine, Athene, Bess, and the rest of them forgot about Azura and crowded around Jeanne. Azura looked for a bed she could use. When she found one, the girl sitting on the next bed over said to her, "Don't mind them. They're the Seers. They think they're better than everyone else because they can see what's going to happen. I'm a Seeker, by the way."

"Awesome! Me too! At least, that's what that freaky smiley lady said."

The other girl giggled. "You thought she was freaky, too? She's obviously faking it! How did she mispronounce your name? Mine's Marina. She called me Maria." At this, Marina made a face. "Really?" asked Azura, " She called me Assura!"

Both girls dissolved into fits of giggles. Azura wondered what Jeanne had gotten on her test; what Gift she had. Don't worry too much, thought Azura, if Jeanne hadn't really had a Gift, then why is she here? How did she know about it? Azura had just decided to ask Jeanne about it, when the Smiling Woman came in. "All right, girls! Training will begin at 7:30 tomorrow morning. Curfew is from 9:00 to 5:45. Now get to bed!" Azura and Marina looked at each other and stifled a laugh. Once she was gone, they both burst out into laughter. The Seers just stared at them. Who cares about those jerks? Azura asked herself, Stare all you want. Not like you get it.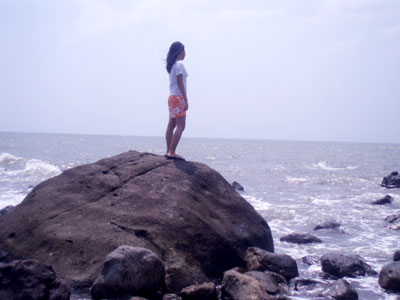 © Grace L., Bacolod City, Philippines