The Watch
April 20, 2009
Good evening, I'm pleased that you came to our session. Now I'm afraid that I do not have a pocket watch with which to hypnotize you, but no matter. I will create in your mind a vision of this phantom watch and it shall be no less effective than the genuine article.

All right, please have a seat…relax…and allow your consciousness to wander a couple inches ahead. There it is. The watch slowly swings back and forth like a pendulum, its metallic surface glinting in the light. It is an exquisite thing made of beautifully polished gold. Its ivory face would be unbearably blank were it not for the black lines and numerals which denote the hours and the endlessly circling hands to point them out.
Carefully listen to the watch's refrain…tick…tock…tick…tock… Consider the amount of intricate and delicate machinery necessary for such a deceivingly simple melody. Imagine how those almost microscopic gears intermesh and how the tiny springs curl up like kittens and jolt back into place almost as suddenly.
The watch swings away again. Now probe its sides and back uncovering each and every tiny detail. Is it not intriguing how in even the smoothest metal; there are entire worlds to be found? For instance, see these tiny parallel grooves on the surface? Close up, they look like freshly turned farmland under a golden sunset.
And here engraved in the back with a discerning hand are the words, On a toujours de temps. A fitting sentiment for a hand-made pocket watch, don't you think?
Well, I do believe our time is up. On the count of three you will return to the rest of the world and this watch which I have described for you today will become your overriding obsession. Nothing short of finding it will satisfy you. Love? Work? These things will wait. After all, there's always time.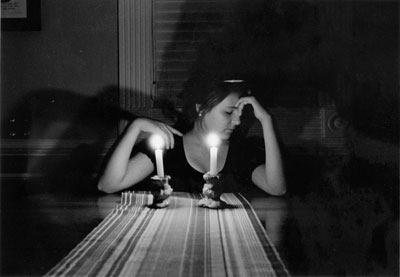 © Eleanor K., Bethesda, MD