The People of the Sun
September 22, 2016
She used to tell me there were people who lived on the sun.
She said they had stardust in their hair and galaxies in their eyes. She told me about they sing and dance and the moons whispered to them from light years away, and how constellations were just drawings, made by the people of the sun.
I don't think I believed her, not really, but she got such a sparkle in her warm golden eyes that I had to say yes, I did believe. Then she rolled over to face me, her cheek pressed in the soft green grasses, and she rested a warm hand on my cheek.
I think maybe after that, I did believe a little bit. Just because I was so ordinary and she was so extraordinary that every thing she said sounded like magic. She would wear these dandelion yellow dresses and put sunflowers in her blonde hair, and it made her butterscotch eyes glow. I think I even believed for a while that she was one of those People of the Sun.
Of course, she was just the girl next door who rode her bike to my house to play tag, but the older we got, the more it seemed likely.
She was too beautiful to be from earth.
When I asked her about it, years later, she got a strange look in her eyes she often got, then she told me the world was an ugly place, and that a bit of stardust wouldn't hurt any of us.
I told her I agreed.
She left eventually, to where I don't know, but I remember her looking at me, smiling through silver tears, the sun making the freckles on her face darken and her golden eyes gleam, and saying quite firmly, "I think you came from the moon, Carson."
Then she kissed my cheek and left.
I still remember her, not the way I used to, though. What I remember now is not what I remembered then.
Now I remember a little girl with freckles and golden eyes who came from the sun, and left to the moon, and I waited for her but she never came back. Sometimes, something in me wondered if she really did leave, all the way to sun. I could almost imagine her, soaring through galaxies and constellations in her pretty yellow dress, a sunflower pinned in her hair. I could see her with the People of the Sun, singing with her golden voice, her golden eyes sparkling and her golden hair shimmering.
All I know now is that she was from the sun.
And I was from the moon.
And even though we were galaxies apart.
We ruled a kingdom of stars together.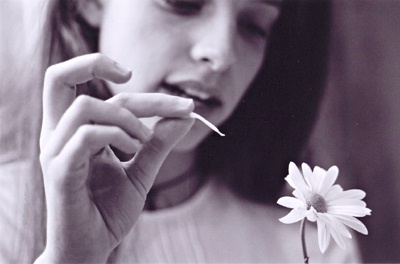 © Emily B., Houston, TX