Callouses
November 3, 2015
I lace my fingers through his. They are soft, almost like mine, not rough like Fathers. I flip his palm over to examine it. The only calluses I feel are on the tips of his fingers- the light calluses that come from turning the pages to books all day.
"What are you doing?" He asks, his brown curly hair flopping in his face as he looks down at his palm, and then at my fingers. But he doesn't pull away.
"You have no calluses," I say and lift my eyes to look at his face. His eyes examine my face to try to figure out what I mean. His eyebrows lift with his concentration.
I clarify, "You don't have any calluses from working. Or sports. Only this," I say and touch the callous on the tip of his pointer finger.
"Why does this matter," he says. He lifts my chin and I stare into his big blue-green eyes.
"I don't know," I say, "Just an observation, I guess."
"But why were you thinking about calluses?" he asks, examining my hand in turn.
"Because your hands are soft. They've done no physical labor." He lifts his head and looks me in the eye.
I thought I see his eyes get hard, but I was wrong. He lifts his hand to my cheek and whispers, "Physical labor is nothing compared to what the mind can do." He leans in and gently kisses me.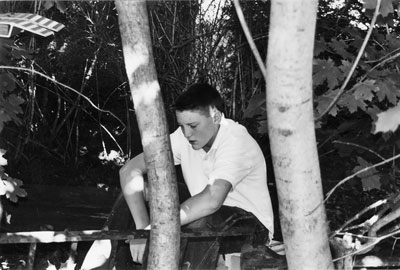 © Dillon O., Pompton Plains, NJ