Possibilities
January 26, 2015
I pulled my purple jacket even closer to my skin, but the cold seeped through anyway. You were cold too, I could see your breath turning to clouds in front of your face. The night settled in the tree branches like heavy drapes, the only points of light were the stars and the burning ember of your cigarette; lighting up your face as you breathed in the smoke. I hated being cold, and I hated cigarettes; but I was always compromising myself for you.

We were standing in the middle of the asphalt, the loud voices of drunken neighbors and rolling laughter washing around us, the colored holiday lights poured on the houses; illuminating a different part of you every time they blinked. The collar of your jacket – the tendons in your neck – the cigarette between your lips – the brown eyes that always smiled at me.

I didn't say anything to break the safety of that silence, to voice what we were both already thinking; that this act of dancing around each other but never touching was overrated. I felt all of the things I thought get stuck somewhere between by brain and my lips, and I knew they would choke me if I opened my mouth. I never had a problem telling people what was on my mind; I didn't care what they thought of me. But with you all my words complicated themselves together like a ball of tangled yarn; the kind that has no hope of unwraveling and so you throw it out.

The idea of going for a walk was a casual ruse, a way to escape the party and create a possibility. The possibility that one of us would be brave, and force the words out. But before I could shore up my courage, and face what I imagined to be your inevitable rejection, or perhaps something even more frightening: your reciprocation – the banging open of a door shattered into our silence. The light and the noise from the party inside flooded outward. The neighbors called us back, and we went.

But as we were sitting in that living room with all the clutter of people around us; I thought that even though I hated the cold, and I hated cigarettes, and that probably neither one of us was going to be brave and say the words, I liked having the possibility.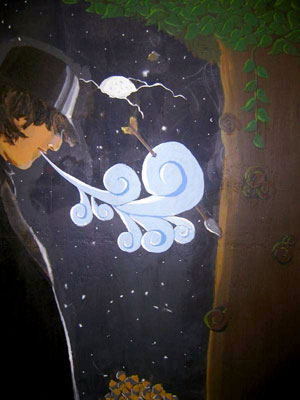 © Dean W., Hinesville, GA