The Last Comet
January 31, 2015
There was no discernible reason why when I found out he had left, I cried. This boy was not mine to hold at night; he did not leave me. I had no claim on him, nor did I desire a claim. He was just a boy. A man by definition of age, but a boy by spirit, and I had never felt a touch like his before.

Maybe it was the way he didn't care. It was how he lived so freely without the mundane stress of life imposing upon him or his decisions. He was an artist, not for the fame or money, but for the stories he placed permanently upon skin. He felt no need to conform to society. He felt no pressure to go to college and spend his days fading away in a career. He was perfectly comfortable where he was in life. Maybe I admired him for that.
Maybe it was the way he looked at me, like a blind man seeing for the first time. He said there was something about me that he couldn't get enough of. "You have this look in your eyes that intrigues me. It's like a curiosity about everything you see." Perhaps it was how he cared for me, without imposing himself upon me. He had no intentions to cross boundaries. He was curious about me, as if I were a celestial being. I suppose that kind of flattery drew me to him, like a moth to a flame.
Maybe it was the way he sang to me, how he held my gaze so intimately. I remember the electricity I felt when our lips touched, as he shared that high with me. I remember the jump in my pulse, and the way I thought his lips fit perfectly onto mine. I remember wishing that it was more than just a hit; I wanted that kiss more than I wanted that high. We made a promise that night to end our addictions, and after sharing one last breath of life, we burned those bridges.
You see, it was the kind of passion the movies just don't get right. The intense bright burning of a star as it shoots across the sky. That, tragically in its short-lived moment of glory burned through its life force and died. He was the kind of experience that you know must end. The kind where when he decided to kiss me, after all that time, I could feel the flames reach up from within me. Just like that shooting star, engulfed in a fiery blaze, we burned out so brightly that we left the sky stark in contrast. He took that passion with him when he left, that's how I knew we would never spend another night together.
So why did I cry when I heard the news from a friend? That in the night he had gone without a trace; leaving behind only memories and emptiness in his place. Why did I shed tears for a heartbreak that wasn't mine? A heartbreak that I had no rights to possess. This boy and I shared nothing more in common except a handful of weekends and one very long night, but he was the kind of passion that starts wars. His was the kind of kiss that changes lives. I never deluded myself into thinking that he might stay. Something that good, you know it can't last.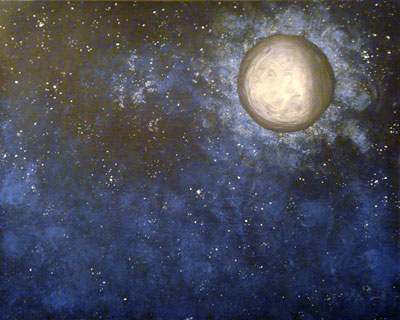 © Allison H., Vancouver, WA