Forever Yours
December 18, 2014
I've never quite understood why winter always felt like the time to be with someone. But now, sitting here curled up in a blanket with a cup of hot chocolate wrapped in my fingers, I've never felt more alone. I can't help remembering him, and the memories we share.
One memory in particular haunts me. We had been talking before, but it didn't quite work out. I was interested in just being friends, but he wanted much more, and he made no effort to hide it. I thought he had gotten the hint. When he invited me over to his house so that he had some company, I thought nothing about it.
***
"Go ahead and make yourself comfortable, I'll be back down in a minute," he told me as I walked in the door. I'd been to his house before, so I knew where everything was. He went up the steps, disappearing from view. I headed to the living room and spotted the couch, and decided to lay down. I had just started to get comfortable when he walked in and sat down next to me.
"If you come over here I can at least keep you warm while you take a nap," he said, shyly. I didn't think too much about it. I just figured he was trying to be friendly. I sat up and slid over to him, resting my head against his chest and cuddling up against his side as he wrapped his arm around me and rested his hand gently on my hip.
After a few minutes of silence, his other hand wrapped around mine. Right then, a small voice in my head told me that he was going to try something, but I shut it down. He knew I just wanted to be friends. His other hand began tracing patterns on my hip, and that voice got louder, but I shut it down again. His touch felt like fire. He unlaced his fingers from mine, and slowly, as if time had drastically slowed down, he raised it to my chin, prompting me to look at him. I hesitated at first, not able to shut off that voice this time.
I finger pulled my chin a little harder, but not so much that it was forceful. He was always so gentle with me. I looked up at him, scared of what he was going to do. My breath caught as I watched him lean towards me, and I saw the look in his eyes that told me everything he never said. He gently placed his lips against mine, testing me. I didn't pull away. That same voice was telling me that this was only going to end badly, but I wanted this. He pulled back only slightly, and without any hesitation, pressed his lips against mine. He snaked his arm around my waist, and pulled me onto his lap. I was on fire everywhere we were touching. His mouth moved gently but passionately against mine.
He pulled away too soon, looking at me with those eyes that I love so much. And I knew exactly what he was going to say before he said it. "Do you want to go somewhere else?" He was trying not to look away, but I saw the blush on his cheeks rise, getting deeper as the seconds of silence ticked by.
I told myself that maybe this was right. Maybe this was our fate, intertwined like threads. I nodded my head, and took the hand he held out to me. Neither of us spoke another word. He led me up the stairs into his bedroom. When I walked in, he closed the door quietly behind me, and then turned to look at me. He walked toward me hesitantly, placing his hands around me, exploring what he could. He looked at me with a question in his eyes, and I leaned forward, giving him the answer with my lips. What I didn't know is that that day would change me forever.
***
We spent 5 months together after that. Five wonderful months that I wouldn't trade for the world. He is my world. And now it's been almost a month since he walked away. The boy with so much love in his eyes, with fire in his touch. Remembering the days we shared together hurts, but I can't bear the thought of forgetting. I just wish he understood that.
I threw on his sweatshirt when I came home today. All I wanted was to come home and feel his arms around me, but this is the closest I may ever get again. A single tear falls from my eye, tracing its way agonizingly slow down my cheek. It falls into my cup, leaving behind a ripple in my hot chocolate.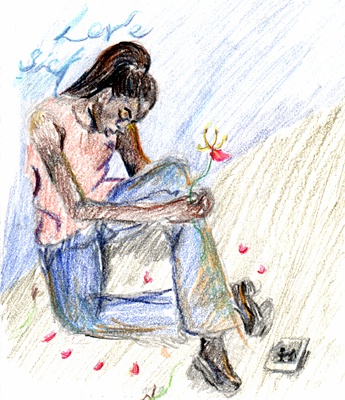 © Sherrell B., Philadelphia, PA