Personified Paintings
December 26, 2014
In the empty wing, in front of the window, Winter and Summer faced each other. As the sun and moon passed in turn, heavenly light slanted. They watched each other with poised eyes.

Winter, in her frosty cobwebs, spun a careless scene of snowflakes, each tiny sparkle glittering around her in an aura.
Summer, his pastel yellow stripes complementing the flowers in bloom, extended a hand to the birds. The dome of warm blue sky arced over him.

Winter extended a jeweled hand. Come with me. Live in my ice palace.

Summer gazed longingly. He beckoned to Winter. I cannot. It's too cold. With me you could eat pomegranates and sleep under the stars.
My blood would boil, Winter said.
This cannot be, Summer replied.
Moonlight fell through the window four times more before either moved again.

On the fifth night, a drop of paint fell from Summer's canvas. In a moment a warm waterfall trickled across the smooth wooden floor. The puddle materialized into Summer, standing on shaky legs.

Winter was hesitant. Summer convinced her. Closing her eyes, she felt her icy rivulets slide down the ancient parchment. Paint flowed from her eyes. She felt herself pooling into shape.

The two saw one another's full dimensions, noting every brushstroke, every minute hue of their palettes.

After this marvel, they reached a hand forward. Fingers slid over and under. Silhouetted in front of the window both leaned forward, gasping as their climates changed. Their lips had touched no more than an instant before they began to realize:

Summer melting Winter. Winter chilling Summer.

They gasped, watching their clothing and skin mix and mingle. They sunk to the floorboards in a single puddle. Their touching hands melted paint.

A great, ripping noise tore through the trembling air as both frames and empty canvas fell from their tiny hooks. Canvas crumpled. Wooden frames splintered.

Tiny winds pulled at the crying puddle on the floor, tousling and separating the mixed caricatures into new figures of blazing orange and darkest purple. As the sun pointed its first fiery ray through the window, two new figures clasped palms. Enrobed in rich palettes they touched their crowns of autumn leaves and wondered at the chilly air that warmed their love to unfathomable heights.

Astonished, they looked about.

On the wall hung a very large painting of Autumn. The beauty summoned them. Climbing in, the figures hung suspended, portraying Creation's majestic harmonies and subtle notes of wonder.

In the empty wing, in the morning light from the window, Autumn and Harvest rejoiced with the cornucopia.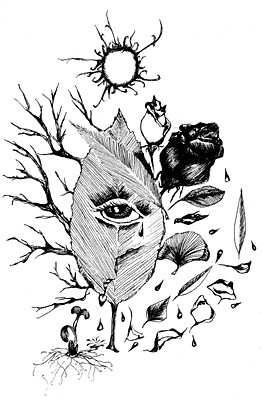 © Cara L., Cheney, WA