No Matter What
March 2, 2014
It had been a year since I had last seen you. Before the "accident", as everyone likes to call it. Exactly November 1st. I had grown up in that year. I started working. I received crisp paychecks. I went to classes every day. I paid bills. Checked out library books. Found and lost love. Sipped coffee. I had grown up.
But you hadn't. You were lying in a hospital bed for a good nine months. It was only until halfway through your tenth month did you start to walk and talk again. I kept up with your blog posts. Your mother put up pictures of the first time you spoke a word since the "accident". Your first breath without the respirator. Your first slice of pizza. Your first step. I studied your pictures, trying to make out the boy I loved a year ago. Instead, there was a haggard, thin looking man with a shaved head and sticks for legs. Clothes sagging off his protruding bones and shoes too big for his feet, you smile out at the camera, eyes dull and worn. I tried to remember the tall, tan, confident boy with the ready smile and rumbling belly laugh. The one who loved alternative music, the beach, and girls with soft brunette hair.

To the world, you are a suicide survivor. To me, you were more. You were a friend. A first love. A glimmer of hope for myself.

I remember when we sat up on the roof with two cokes and a packet of peanuts, singing to the glow of an orange sunset. I remember when we kicked the sand into each others eyes and hair and nose and fingernails as we roughhoused on the beach. I remember when we stayed up all night in the old red tent, listening to the boom of fireworks and telling fairy tales til sunrise. I remember when I thought my future was you.

But then you did it. You had your accident from ten stories high. You flew the way my heart flew whenever I touched your fingertips. Except you flew away from me. When I heard the news, a dagger had found its way into the deep recesses of my heart. When I found out that you survived, the dagger twisted and I screamed in pain. The agony you put me through. I almost couldn't handle it. But then I knew I had to stay strong for you. Because I knew I was going to someday see you again. Maybe you wouldn't be tan and strong and playful like before, but I knew that you'd still be there. Warm, breathing, and alive. You would be you and I love that no matter what.

The hospital seems bigger. Brighter. More flourescent lights and the smell of sanitizer clouds the air. You are in room two thirty-two. I think I memorized that number by heart. I know I'm nervous. My palms are clammy and a knot has formed in my throat. I'm scared. Almost too soon, I look up from the ground and there it is. Room two thirty-two. Swallowing, I reach for the door handle.

The moment I see you, my heart somersaults.
"Hi," you say.
And then I cry.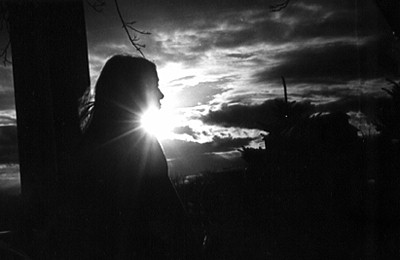 © Elizabeth G., Marblehead, MA