Love According to the Neighbor
November 5, 2013
It's late at night, raining, and the walls are pulsating with verbal venom. I find a strange pleasure in the fact that there are two people in the next apartment whose lives are far more tangled and lost than mine.


The woman is named Jane. The man is her deadbeat boyfriend, a good-for-nothing, cheating, I-swear-one-day-I'll-just-kick-him-out type of guy. A fellow named Mike, or Mickey, or You-Lying-Bastard. Jane is you-crazy-shrew, old-hag, paranoid-and-dysfunctional-b****. I tally their names for each other and wonder why I only have one.

There are tears now, and the wet sound of despair fading into carpet is new. I close my eyes. The sounds vibrate through my body, I can feel every ache and shudder of Jane's shoulders and when the vase breaks, I feel it in my marrow. I know that Mike's eyes are bloodshot and wide, I understand that Jane's wily brown hair is hanging in loose tendrils around her blotchy face. Her makeup is probably running, carving canyons in her cheekbones and trenches down her neck. Mike is more of a manly-man, he won't let her see him cry. He smoothes his stubble, maybe throws back his head and presses on his eyes with the heel of his palms. By now, white bursts are popping in his vision but at least the tears aren't coming.


I hear the stamping of feet and the opening of a closet. Something falls – shoes, I think, perhaps an umbrella – and I hear Jane angrily pull on her old Sketchers that she's had for years, every Sunday for her weekly jog. I hear her wordlessly blow out the door, and when Mike sinks into his chair I feel the whole floor sag with him, with me, with both of our fears weighing on the whole building. I sit in panic for seconds, a minute, and then float to the window just in time to see Jane wisp her way into the street. She is swaying, twisting, and I think every bone in her body was waiting for Mike to kick his way through the building and out into the gravel river to scoop her up. But I can feel Mike's tears in the room next door, with every new drop flooding my body. I crane my neck in indecision. My ears sprint towards Mike just as my eyes rove to Jane. I hear a decaying man and I see a woman who's given up on her good-for-nothing prince. I think maybe her heart is broken and now she's waiting for those lights to make her body the same. I wonder if this is love.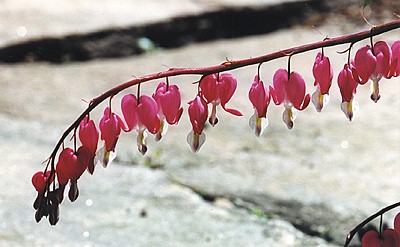 © April P., Newark, DE