King Charles and Queen Elizabeth
June 7, 2013
Would you believe me if I told you I didn't know this would happen. That I didn't know future we would have, that I never would've thought that we would be more then friends. But isn't that funny? Isn't that how all the love stories begin? Boy meets girl, girl falls in love and well you know the rest. I just wish that was my life, my happy-ending. But some people don't get so lucky sometimes. I was one of them.


I remember the first day that I met him, I never knew, that we would be together. Honestly, I only spoke to him because my friend thought he was cute. And well, I did do, but he was a little too scrawny and on the geeky side. I called him over and asked what his name was.
"Charles," he said. I started to smile, because I knew exactly how to tease him.
"Charles," I said smiling, "Like the British name Charles? Like King Charles?" he blushed, and stuttered a sure. I asked him to sit down and he did. For the first few minutes it was just me carrying on the conversation, and I do believe he looked at me as if to say, "Why would a girl like her, talk to a girl like me?" Funny thing was, I didn't know either.

Even though I was with someone else, Charles and I became best friends. I use to call him in the middle of the night, just to talk. Almost about anything. Just as long as I could hear his voice.

It wasn't until a year and a half later that Charles and I would date. I had just broken up with my ex-boyfriend Allan after getting back with him a few months back from breaking up with the guy that I broke up with, who I was dating when I met Charles. It was on Christmas break, and we talked about our first kiss for days, but the thing was it hasn't even happened yet. I was quite worried about the future and about the feelings that I had for him. I told him up front that I was afraid that I was using him for rebound. He said he didn't care, that he still wanted us to try. And so we did. Charles had changed from the first day I met him. He was taller, more older looking. He got his braces taken of, and he didn't wear his glasses as much. There are very few men that I think are beautiful, but he was one of them.

Over the course of time we had a growing passion for each other. Both physical and mentally, I loved his soul, mind and body. I remember how he would look into my eyes and whisper how beautiful I was, I was remember the way he held my hand as I tried not to fall down the hill. I remember the way he kissed me when the teacher wasn't looking. I remember the way he spoke to me with such gentle and loving words. He loved me and I loved him and for the time being I thought that was enough.

But sadly arguments began to arise, choices that had to be made. And even though we loved each other, it seemed that wasn't enough, that the world was fighting against us. His mother wasn't good, she was in a relationship with an emotionally abusive husband, who wasn't even Charles real father and certainly didn't treat him like a real son. I worried for him especially after the night his mother had gotten drunk at a bar and tried to drive home herself; not only making out with a stranger, but still being legally married. You see the step-dad had kicked out Charles and her mother. While they were renting out another house she would go back to have sex with him. She was living under his conditions, she was practically torturing Charles. And that got to him and that got to me.

But I do remember the last night that we had together. Sitting by the campfire and watching the stars, I told him to make a wish and when I asked what his wish was, he smiled and said he couldn't tell me or it wouldn't come true. But that night I felt for the first time what it was like to sleep with another man, not sleep as sex, but sleep to see his chest rise up and down. We laid there for 3 hours until all the guys had to camp outside while the girls slept inside. And since he left I stayed up the rest of the night, instead of sleeping. And the morning was even better. I got to see how the sunlight touched his face, how he looked when he just awoken.


He was my king and I was his queen. But our time of reign has come to an end… Goodbye Charles. If you ever read this.. I love you.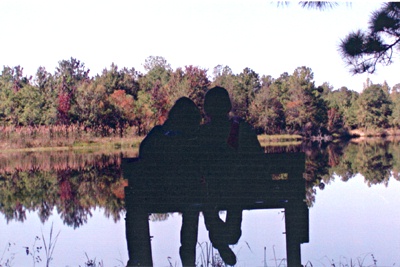 © Heather J., Slidell, LA