Red Hoodie
MAG
April 2, 2013
He wore a red hoodie on Monday and a black one Tuesday.

On Wednesday, his hair was usually ruffled. Sweeps of black hair fell messily across his forehead and touched the rim of his glasses. Once in a while, when he'd flip a page or soundlessly scrawl something in the planner next to him (left-handed, glasses sliding down his nose) he'd duck his head and run his fingers hastily through his hair. His hair then fell marginally more to the right than it had a few seconds before. She wondered if he knew this.

On Thursday, it was white long sleeves under a black graphic tee. From what she could make out (which, being three tables and a couple dozen book piles away, admittedly wasn't much) the shirt ­depicted some sort of extraterrestrial creature from one of those vague teen boy video games.

He was, quite frankly, adorable. Every day of the week.

She began to wonder why she knew his favorite book (the blue one with the faded spine tucked inside his bag) and not his name, wondered why she could count the seconds until he opened the door to the library (she beat him there most days), and not ask him it.

It was with trembling fingers that on Monday (green hoodie, neon iPod headphones dangling from one ear) she moved her stack of books to his table. Sat down. And talked to him (Kyle, slight lisp, smelled like gingerbread).

That was only the beginning.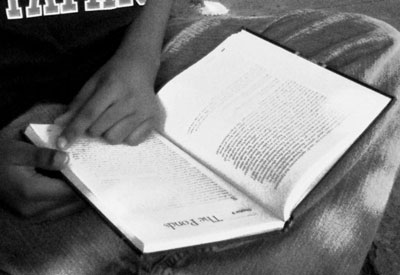 © Allan L., Plano, TX