The Angel from Heaven
March 1, 2013
I was invisible to most everyone but those who were close to me. Yeah, I was a nerd, so I was sure no one would notice me. My lowly status made me barely noticeable and didn't draw a lot of attention. I knew one person who drew the most attention, though, and I had a crush on her. Her name was Savannah, nicknamed "Savvy", and she was über hot! I really didn't think she'd notice me.
I was just minding my own business, walking down the hallway, when all of a sudden, I bumped into someone. I was picking up the books when a voice said, "Oh, allow me." I froze, recognizing that familiar voice anywhere. I looked up in shock to see Savvy! She was smiling at me despite my awkwardness around her. She handed me my books and after I thanked her, the bell rang and she ran to her class. I was still blushing for the rest of the day.
I had a late night meeting with my book group and got a ride from my fellow mates. As usual, I sat in the back seat, silent and mostly unseen. Suddenly, we hit an oncoming car and we spun around in mid-air. We then crashed in the ditch and everything went black. I couldn't remember much about that night, but all I can say is that I saw a bright light and a silhouette reaching out towards me. I felt like I was going to heaven, but it didn't feel like it.
The next thing I knew, I woke up in the hospital, barely moving and still alive. Naturally, I was confused because I thought I died. It took me five seconds tops to come to my senses to realize what happened. I began worrying about my club mates when she entered the room. Yep, it was her. Savvy.
She strode to my side and asked if I was alright. I meekly replied that I was a bit weak, but I was okay. What she said next surprised me. She explained that she was the one who pulled me out of the wreck. She was on duty at the very street where we crashed. Tears came to my eyes as she explained everything to me. I was deeply saddened when I learned that a few people I knew died in the crash, but the more likely reason I had teary eyes was because Savvy cared about me.
She expressed her concern about me and her interest in me. Before she left, she asked if we could hang out sometime after the funeral. I nodded, beaming on the inside. For the first time ever, I was going to hang out with the most popular girl in school. Then maybe, I could find a true friend in her because to me, she is my angel from heaven.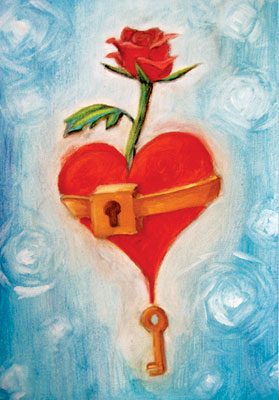 © Louisa L., Pleasanton, CA