You're My Home
June 11, 2012
I don't think it was love at first sight. At least, that's the case for me. But things changed so fast. The minutes passed by at mind-blowing speeds, the small talk turned into long, drawn-out conversations, and the hour we allotted to hang out became an all-night affair. And before the clock strikes midnight, I'm questioning whether or not I should fall, if I should take that leap of faith, whether or not I should trust someone who is practically a stranger with my bruised heart that just yearns to be fixed.
My heart told me to go. It told me to take this chance, because there are only so many opportunities that this life has to offer. I listened. I jumped, and guess what? To my surprise, he caught me. I gazed into his eyes for the first time and I saw a beautiful world that would soon be mine. The sun fell perfectly over the Atlantic one November at dusk and at that moment; I knew that his arms would become my home. Just one week later when the stars above sparkled for us, his lips found mine for the first time. As he took my hand, a feeling of electricity shot through my entire body, and butterflies restlessly fluttered around in my stomach. He made me feel beautiful.
That was six months ago, and almost nothing has changed, except the distance. After you moved away, I've been feeling lost and alone. My faith is shaking, no doubt about it. I always seem to find myself questioning if it's worth it, wondering if I'd be better off without you, fantasizing about how much easier my life would be if that magical day was never in my cards. My life would, in fact, be much easier if we just called it quits right now. Your life would be a breeze if this ended tonight.
But then I see your name on my phone's screen and hear that special ringtone I picked out especially for you. I hear your voice say that you'll be around this weekend. The taste of your mouth on mine will be my reality shortly, and with that thought, I know that we're going to last forever, just like in the movies. We are going to make this work. Miles mean nothing when such a love is at stake. We are strong, we are beautiful, and we are waiting to taste the absolute bliss we'll have in just a few years. Even though the road has so many twists and turns into this wild and unforgiving world, there's a gorgeous place waiting for us on that very same street where you and I will stay forever young.
These days, it's really difficult to distinguish what love is, and I feel like the only way we'll ever truly understand is by realizing what it is not through a series of heartbreaks and millions of tears. But now I really do know. You are everything that I could ever want. You are everything all those other guys who left me standing alone in the rain are not. You are beautiful, and most importantly, you are mine. Love is giving your heart to somebody knowing that at any moment they can totally destroy you, but having this undying faith that something so traumatic could never happen. You are everything love will ever be to me.
Six months later, as you kiss me on the lips for the billionth time, I still feel the same exact way I did the first night under the speckled night sky. I sense the tingle in my tummy and that warmth of your embrace surrounding me; you'll always be my home. The time we spend apart makes stronger, and when I see your face, I know it'll all be okay. I know we'll be the ones to prove them all wrong; we'll be the ones who are together forever. I love you more than anything.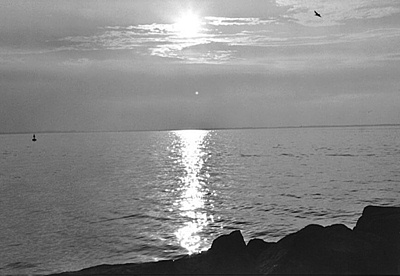 © Amanda L., Cumberland, MD