The Ability To Fly
June 3, 2012
You mistook his lust for love, dear, and it took awhile for the realization to sink in. It is a horrible feeling, I sympathize. Your legs begged for you to run but you stayed frozen in place until it was too late to grab that vine, your lifesaver.
And so you go about your days, vanishing and reappearing, a ghost in a lavender dress with flowers and leaves tangled in her beautiful, fiery hair, a wispy halo. Once upon a time, you had the ability to fly, a rabbit-hearted girl with a strong desire to graze the sky with your dainty fingertips, longing to taste the clouds. You saw the world through optimistic eyes, drinking in the sights and storing them in clear blue jars. You kept them in your cabinet full of memories, essences of summer and sunshine. Now your heart is just a rattling silver can, looking for spare change to patch up the gaping holes that he inflicted upon you. You lost your ability to fly, patterns interrupted like a halted stitch in a patchwork quilt. You are barely there, where have you gone?
Your eyes sparkle but they are vacant, filled with unspoken thoughts, black obsidian. Your lips turn upwards at the corners, but it is feigned happiness, plastic. I can see right through you. Your transparent facade is the intended grand scheme but who are you fooling? Aimlessly weaving through parks and bar stools and the covers of your bed, you are restless and tired, tired and restless. Well, long nights of thinking and pondering can eat you alive, but I think you know that by now.
He is interstates away, yet he still holds on to your heart. You are merely a memory to him now, a whisper of a girl, a stranger in a sea of faces.
Tonight, when he looks into the eyes of the girl, he will not being seeing yours, dear, I am sorry to say. Tonight, when he caresses her porcelain arm, covered in goose flesh, he will not be feeling your skin under his rough hands, dear, I hope you know that. Tonight, when he catches a glimpse her red hair under the dim streetlights, he will not be reminded of you, the fiery-haired, rabbit-hearted girl he used to know, so stop wishing and start living. I can see you are reluctant to let go, but take a chance and take the fall. There is nothing left to lose.

Rabbit-hearted girl, you finally grazed the skies, you finally flew, you finally tasted the clouds. Rabbit-hearted girl in the lavender dress, tell me, what is it like to love again? Is it wonderful? Is it painless?
Rabbit-hearted girl, tell me, what is it like to fly again?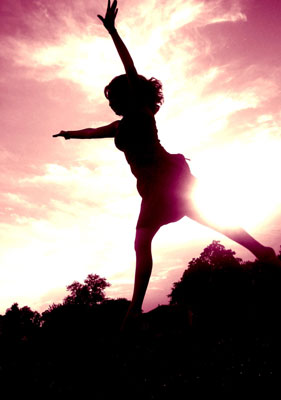 © Martha V., Morton Grove, IL