Love is Patient, Love is kind
May 8, 2012
I wake up in a very comfortable bed on a Monday morning. I look over to my right and see a strange machine beside me. To my left I see David with his head down on the railing of my bed. I look around and realize that I'm in a hospital bed. I look in front of me and see my parents asleep on the couch. I lay there for a moment and stare at the ceiling.


'What am I doing here?' I think to myself. I look at my body and see there is no harm down that I can see. I nudge David's head a little. He sheepishly looks up at me, and it was like lightning struck him. He burst into tears and wrapped his arms around me.

"What am I doing here?" I ask him as his arms constrict me.

"You scared us to death." He says sniffling as he cries on my shoulder.

"What happened?" I say softly lifting his head with my finger tips.

"Y-you were in a c-car acc-cident a-and hit your he-ead," David says stuttering though his tears.

"What?" I say whipping away his tears. I observe myself again quickly, and I see no signs of injury.

"Katie, you were in a coma for a month." David says before bursting into tears again. My parents wake up and embrace me. A little while later, my parents leave David and I alone again.

"Katie, I never thought I'd see those beautiful eyes again." He says as he sits at the edge of my bed beside me.

"David," I said before bursting into tears. He takes me in his arms and runs his fingers through my hair.

"I was scared I would never hear you say my name again, I was scared I would never get a hug again," he pauses for a moment and looks deep into my eyes, "I was scared I would never get to feel your kiss again."

"I'm sorry David." I said with tears rolling down my face. He whips them away, and softly presses his lips to mine. I wrap my arms around his neck and pull him closer.

"Don't be sorry, at least I can now." He says kissing my forehead and holds me in his arms.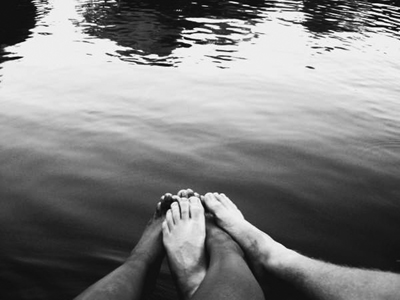 © Michelle W., Ada, MI