Away Down The River
April 22, 2012
I woke up with my face mashed into a military issued wool-blanket. Dmitri rumbled beside me, chest softy grumbling with each feather-soft snore. My curls spilled around us both, fiery scarlet shrouding our nakedness in a tangled simplicity. Stiffly, my body uncoiled, sending a rippling effect up my spine until I had no choice but to stretch, and inevitably, yawn. The gust of hot air blew into the chilly air with a sour aftertaste, and I licked my lips carefully, wincing, as if I could take it back again. Dmitri stirred restlessly beside me, chapped lips twisted into a relaxed, nonsensical smile. Shifting tentatively, I squirmed across his sleeping form, grinning despite myself as he mumbled and grumbled peacefully in his sleep. It was pointless to wonder what he was dreaming of now, as it could have been anything. I could've been a giant slug oozing across his chest by now, but I doubted it because of his smile. So long it wasn't one of his war nightmares.

Slowly, I tentatively eased my weight off the cot, letting out a deep breath as I made the trip uneventfully. Shrugging on my dirty clothes proved to be another matter entirely, and I ended up hopping around sporadically before giving up on my tight breeches, swiping a pair of Dmitri's instead. They drooped four inches past my toes and gripped three inches too tight on my hips, so I ended up with his belt cinching them to my waistline and his cuffs wadded twenty times up on my bare, freckled knees. I hadn't arrived in shoes or socks, and I had no intention in leaving them. My toes settled carefully and experimentally on the cold cement ground, flexing gratefully.

My pale hands were already on the decrepit doorknob before I glanced by at my sleeping Dmitri. Old habits die hard I guess, I sighed. Not that that was an excuse- I'd loved Dmitri far longer than I'd floundered in the magic of paranoia. Slinking back by his bedside, I carefully leant over him, allowing myself to soak in his fine, worn features one more time. The firm roughness of his dark stubble bit into my hand as I traced his sharp cheekbones, the evidence of too much hard work and not enough humor. His usually gray eyes, rung with dark, Arabian reminiscent lashes were closed, tanned lids natural against his sun-bitten gaunt cheeks. His nose, proud, strong, and broken multiple times, flared gently. The tumble of his inky curls and waves swathed the rest of my hand, knotting in my comparatively thin fingers. With a start, I disentangled myself and deftly lowered my chapped lips to his smooth forehead, kissing the point he so often rubbed in frustration. With that, I spun and slipped out the door, my feet on the floor as lithe and silent as a mouse.
The hall was a bit of a dilemma. The only reason I'd made it in last night was because of a rather stupid soldier, who'd left his window open in the dormitories. Women weren't allowed in the military bases of course, but it still happened. Who was a man without his prostitute, after all? Women were regulars here, twisting in and out like shadows while officers turned their heads the other way. But to see a redheaded woman on base… well, that was outright war. If a ginger prostitute knew what was good for her, she'd dye her hair. The Irish, the Scots, they were the enemy. I was the enemy. The rebel, the illegal, The Elemental. A Russian military base was usually the last place any Irish-born lass would want to find herself. Except, of course, me. It was bad enough Dmitri was a drafted Russian, but did he have to be an commander? With a sigh, I surveyed my options.
Down the hall stood more of the commander's rooms, and across it bustled all manner of laundrymen and messenger boys. By the meager odors wafting down the hall, I could tell one of the two doors directly in front of me stood the kitchen. But the other door, the one almost directly in front of me, stood slightly ajar, and more importantly, seemed entirely inactive.

I didn't pause to reconsider. It was a bit of a specialty of mine. Act first, think later, the bane of the existence of the man sleeping on his cot alone behind me. I shot off like a bullet, dirty feet careening into the icy hallway and behind the opposing hallway door before much of anyone could be notified to look up. Behind the door, I stood wide eyed and panting for a minute or more. It was another two minutes before the adrenaline had worn off and I actually took a look around my newfound hideout. My first impression was that I'd stepped into an insurance company's warehouse. File cabinet after file cabinet stood in front of me, row after row, and the closest one near enough to hurt myself with. The metal in the room radiated the stench of cold iron, infecting the air from every aspect of the room, from the cabinets themselves to their labels and plaques. Grimacing, my pupils dilated to adjust to the dimness of the room, focusing on characters and numbers for the first time. Cyrillic of course, but characters and numbers none the less. Warily, I eyed the closest, freshest looking cabinet, and lunged suddenly for the top drawer. My first handful of files revealed at least 300 pages of numbers and names.
With a wild grin, I flipped through it, fingers trembling and sweaty. Officer's names, soldier's names, staff's names, base coordinates, everything. Figures flew under my wild, freckled hands, my face wide with disbelief and awe. Every page in my hand was made of gold and silk in my eyes. My relationship with Dmitri was a sure, if finicky thing. He was my other half, my soul mate, as I was his. But as true as that was, it was just as true that there was a rift. A rift of cultures, a rift of customs, a rift of beliefs, whichever divisions suited our nations best, and we had it. But God, I loved my country just as much as I loved him, wether I liked it or not. The information in my hands could tip the entire war against each other the rebels' side, saving everything I'd ever stood for. Dmitri had made this choice long ago, and now it was my turn. Easing out a testy exhale, I breathed my apologies to Dmitri, Gaelic and Russian a warm, buttery hot mix on my throat. My sweaty palms clutched the papers like a prayer.
But the moment the papers were shakily stuffed into the high waistline of Dmitri's pants, the sharp bite of a Russian tongue seared through the frigid air like a whip, shouting something unitelligable. The roar of a gun followed a second after, heralding the sudden arrival of a blinding moment of unimpenitrable pain.
After a moment of stunned silence, my legs collapsed beneath me, splintering under my weight and the forceful presence and pressure of a lead bullet. Voices cried out around me, distant but present at the same time. Numbly, I lowered my hand to my leg, and brought it back up to my line of sight. The world spun in burgundy. Someone jostled me roughly, then gripped my curls, yanking my half-lidded eyes back to gaze blindly at an officer's disgusted features. He spat on my cheek, then slapped the back of my neck. My vision flickered, and I slumped down, dimly aware of my forehead hitting frigid cement before everything went dark.

The summons came at 9:35 AM. There was no explanation on the head commander's part, and no suspicion on mine. Summons were not uncommon. They regularly occurred among the higher-ups when they received their orders, or when we assembled to discuss positioning or strategies. What was uncommon was that this summoning was public.
By the time I'd woken, Eve was absent, as were my last pair of clean trousers. No speculation as to what had occurred there. I'd scarcely had time to pull on a muddy pair and a pressed white shirt before the bell had squalled, and the entire base had been summoned to the main courtyard.
"Comrade Rosanov," Someone murmured, hand flashing into a salute out of the corner of my eye while I wrestled my surcoat out the door. I nearly tripped at the distraction, but managed an almost-professional stoic nod by way of recovering my dignity. The young man held his expression respectfully blank, waiting patiently, left hand cupping a steaming cup of something dark, the right dropped to his side.
"Comrade… Petrov, was it?" I questioned, gratefully relieving the coffee from the soldier's offered hand. "Are you in need of something?" It was difficult to focus on the man at all, let alone his name, as every time my mind skimmed over much of anything, it started to look a bit like a certain redheaded girl. I shook my head sharply, grimacing. 'Dangerous thoughts to have in, particularly in the morning, when a chap would say almost anything for a cup of extra-dark coffee.
"Petrov, yes sir. I was to escort you to the courtyard, sir."
"Escort?" I frowned. "I believe I know the way. I've been here for two months now, have I not?"
"Yes sir, you have sir. But I was told that speed was of the essence, sir."
I sighed. Well, no reason to complain there, I frowned. The base its' self, though set up almost identical to every other Russian military base I'd ever been to, was infamous for being absolutely massive.
Taking a deep drought of out the deliciously warm paper cup in my hand, I announced, smiling slightly, "Lead the way then, comrade."
"Sir?"
"Yes?"
The soldier shuffled slightly, unsuccessfully struggling to hide a sheepish flush.
"Can I have my coffee back, sir?"


Sure enough, the way crossed the paths of several rooms, dormitories, and latrines I previously had not known existed. The trip as a whole was pregnant with the shuffling of heavy boots, murmurs, and disgruntled complaints. Despite my guide, I still arrived almost last, landing me a spot directly hiding me from view from every other commander. Someone was already proclaiming something to the crowd, announcing it in a harsh bark, but until I was eventually shuffled silently into place, I was completely oblivious of his proclamation until with a sudden hush, the congregation of military men grew still and silent, breaths held with some emotion I hadn't picked up on yet.
"Does anyone claim association with this person?" The man yowled, the words permeating throughout the brisk chill. Stony silence answered him. Curiosity sparked through the heady flow of my blood, directing it to the pudgy man in the drab olive uniform, face flushed as crimson red from shouting as the soviet star on his breast. To his left stood a firing squad, and to his right, a stodgy pole, thick and perforated with bullet-side holes. A small form huddled there, wrists classically bound behind back, cascade of fiery curls hiding a small, fierce face from view.
Evelyn. The world stilled and quelled at the sight of those raw, freckled bound delicate hands.
Ice slid over my heart, battering and burrowing into its tender flesh like a blade. Numb and dead, I watched in uncomprehending horror as she lifted her head, brilliant wild amber eyes mournfully, apologetically piercing directly into mine. Colors swirled together, spinning and spitting throughout my vision. Olive, gray, black, white, brown, porcelain, scarlet, tawny, all violently crashed into my skull, leaving me spinning. Stunned, I tripped sideways, knocking into another officer mindlessly. Numbly, I heard him grumble before the sound of blood beating through my head drowned his irritability.
"No one?" The man called again. His words resonated. He took a step forward, sneering back at the woman's slumped body.
A voice croaked wordlessly. After I moment of vacant confusion, I recognized the noise as my own. Evelyn's head stayed down, her back bowed brokenly once again, haunting eyes fixed solidly on the bitter frost in front of her. The man grinned broadly, dull eyes instantly homing on my dumb stupor. Gradually, his leer faded, replaced by disbelieving shock.
"Lieutenant General Rosanov?" The man offered hesitantly. The crowd teemed and murmured around me. Slowly, I stumbled my way to the front, staggering into the open field in front of the squalling man. Dimly, I recognized him as a fellow officer, but got no further in categorizing him before my mind shifted back to the fiery girl in front of the firing squad. By then, the commander had recovered from his shock.

"What relations do you have to this woman?" He continued, voice dry and cracked. Somewhat subtly, he drew himself taller, as if trying to win back the situation in his favor. The question cracked me out of my stupor, knocking me into biting my tongue. Blood, coppery and salty, whispered on my throat, the tang alive and vicious. Mirroring his posture, I drew my back straighter, and held my chin high and proud.
I was doing this. And if I was doing this, I was doing it in the way I was raised. I might have loved Evelyn Taylor with every ounce of fiber, muscle, and essence of my being, but my past belonged firmly to Russia. There was no point in postponing the inevitable, and dying with Evelyn was far better than dying without. I might as well go out remembered for all that I'd stood up for.
"I love her, sir," I proclaimed, smile inexplicably curling off my lips. If a positive response was expressed from the crowd, I'd missed it entirely. As a whole, I seemed to have missed their reaction utterly. My eyes remained firmly locked on Evelyn's, who suddenly looked incrementally more horrified than before if it was possible. I grinned.
"Dmitri, what are you doing?" She whispered, trembling voice rolling like a dry leaf across the silence of our audience. Clicking my heels together, I flashed her a quick wink before turning back to my inquisitor. He stood red faced and stuttering still, but seemed to have a commendable determination to finish his little questionnaire.
"A-and are you aware of why she is punishable?"
"Well I suppose so. She's explosively Irish, is she not? Her Gaelic is beautiful! And she dances to the violin like the devil! Really comrade, she's quite something."
The commander's mouth worked like a fish's. Interesting, the things you noticed when you were ready to die.
"A-And that aside, were you aware of her federal theft?"
"Stealing trousers is hardly a breach of national security," I murmured wryly.
The little commander scowled. I took that as a no.
"And you are aware that because you had sexual and romantic relations with this girl, you will be forever discounted as a traitor to the whole of the Soviet Union?"
"Yes, sir."
"So you realize that you will have no choice but to be shot on sight?"
"What are you waiting for? Hook me up."
Purple now, the fish man beckoned over two of the burlier soldiers, one of which wielded a length of rope to "guide" me to Eve and I's wooden seat of honor. I walked amiably the whole way until they left us to be, alone in front of 9 men with matching red stars and matching black rifles.
Bound together our hands fit perfectly.
"Dmitri?" asked Eve, voice cracking.
"Hmm? Yes, love?"

"I'm sorry."
"I know. And I forgive you," I chuckled, nuzzling my lips to her flushed forehead. After a tender kiss, I lowered my eyes to hers, making sure she knew I was serious. Near silently, she choked on a small sob.

In the distance, a chorus of hammers clicked briskly.
"You're too perfect for me, you know that?" Evelyn chuckled, watery eyes engaging mine once again until I melted.
"If only you knew how wrong you are," I sighed, contentedly lowering my forehead to rest on hers. "You'll always be my better half."
"If only!" Evelyn cried, startling herself into a laugh. The air hummed around us, florescent with joy.
"I love you," she murmured, quieting herself as she relaxed against me.
"As I love you," I whispered, voice catching for the last time.
For a brief precious moment, the world dissolved around us, warmth and love cocooning us from the forgotten eminent threat. Softly, she inhaled against me, our breath mingling in the Russian winter. Together we stood in silence, breathing in the other until nothing could be heard but the other's heartbeat.

When the bullets came, we'd already departed.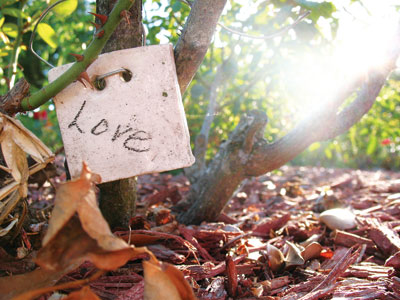 © Danielle L., League City, TX